Daisuke's stepping stone in 2011-2012 season
Mark interviewed Daisuke TAKAHASI @ Skate Canada 2011.
by MARK STEPHENS
content by AIKO SHIMAZU 島津愛子
Oct. 30, 2011 @ Skate Canada

2011-2012FS"Blues for Klook" @ Skate Canada
JS: Tell us about your training in France this summer with Olivier.
DT: For 4 hours per day, mainly I had worked with Olivier(Schoenfelder), on my skating skills. I had skating skill practices, and also, it had been checked by him in run-throughs, for 2 weeks. In the camp, I took dance sessions and strengthening, as well. …something like that? so satisfied with the days in Lyon!
JS: At Friends on Ice (an annual ice show produced by Shizuka ARAKAWA), you mentioned that you "loved Olivier's skating". What do you like so much about it?
DT: I'm amazed at what he has done on the ice, "Such a tall man can glide on such a deep edge? How deeply he can bend!" His knee utility, his skating skill I love.
JS: How was life for "a Japanese in Lyon"?
DT: My skating club friend in Japan, also had trained there, so, actually 2 Japanese had enjoyed Lyon after trainings. Going out to the town, and we lit a candle in a famous church, so "my dreams come true!" - I heard that. (smiles)
JS: Definitely!
JS: Could you explain about your right knee surgery and its condition at this moment? (Daisuke has had two surgeries: in the 2008-2009 season, and this summer.)
DT: This surgery, the bolt was taken off. So, just okay. But I feel that I still haven't good response from my right foot, as same as in my best seasons before this injury. But I should have my prepared body, so I must train enough.
JS: Could you tell us about your programs this season?
SP "In the Garden of Souls" choreographed by David Wilson
DT: I really love David's choreography, so far! I had been keen for collaboration with him to happen, "I want his program!" for 4 years! Then it happened to me at last. Even more happened to me, than I expected… he gave me such a program, really appreciated. I love this kind of music so much, it fits me so much, the moves charms so much… Though it hasn't worked so much now, I expect of its progress, hope to make its way.

2011-2012SP"In the Garden of Souls" @ Friends On Ice
FS "Blues for Klook" by Pasquale Camerlengo
DT: I have worked with Pasquale for 4 seasons. He picked this finally. For me, it's so hard to fit… I didn't choose this kind of music, but I did want to flip my appearance, then he "bet this will make it happen!" …Blues, it makes me a bit blue. (smiles) Yet, people say "Good program!" - good response I have, now I must be confident, to make it happen with good performance.
EX "The Crisis" by Kenji Miyamoto
DT: "Skating Skill Suite" program I would like to have, we made this last season. Then we remade to fit this season. It rinses my soul, even when I perform by myself, such a program. I hope it will nourish crowds, for a moment relief from the hardness. I have tried to fill relief into my soul, onto the ice.
JS: Beautiful, thank you!

2011-2012EX"The Crisis"
JS: Daisuke, how you do feel your maturity in life - getting older, having new experiences - relates to your skating and performances?
DT: I need more preparations, as well as body care enough… (smiles) than when I was the liveliest. Now I need such liveliness! However, I know myself and my condition better, to dedicate myself with sincerity, I guess. You can't make your performance, unless you know yourself. Though, I don't know "what the matured performance is".
JS: You were quoted as saying "These three seasons before Sochi would be miserable for me," yet, you've declared that you will continue to Sochi, in such a determined way - that truly inspires us! What makes you so determined?
DT: I had miserable Worlds in Moscow last season, it refreshed me completely! As Young and advanced skaters we have in our team for now, I'm not sure if I could make an Olympic team. So I'm given a new motivation, "How do I compete with them these 3 seasons?" Youth may dominate to sweep me away (smiles), but I enjoy myself in competing, "What placement will I get to, 3 years later?" I have tried new refinements, glowing with expectation! …It could be miserable, indeed, but it's worth a try. Then you would be satisfied with your effort. Much more important 3 seasons to go there, it means a lot to my life, - that I really know, so I could be determined.
JS: That's great! Thank you.

2010-2011FS"Invierno Porteno" @ All-Japan
JS: Japan Skates always asks this question: What was the funniest gift ever thrown onto the ice for you?
DT: It's hard to say… I'm not sure if I could say, but… "T-back (thong)"! (laughs)
(everyone there laughs)
JS: That's the same answer as Nobu(Nobunari ODA)'s, and Ryo(SHIBATA)'s!
DT: (laughs) (in English:) "…but, not sexy one! A NORMAL T-back!"
JS: (laughs) Good!
JS: And, the most beautiful gift?
DT: My pictures: paintings,drawings,illustrations… and ornaments.
JS: Those are nice.
DT: (laughs)
JS: As we say goodbye, please leave a message for your readers at Japan Skates.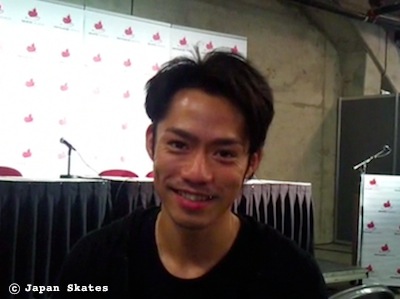 ☞ Daisuke Takahashi @ Skate Canada on October 30, 2011
((translation))
Hi! I'm Daisuke Takahashi. I continue competing to Sochi! - that's confirmed! You know so many young skaters are rising from Japan now, I'm not sure if I could make my way, but I have tried to do as much as possible for 3 seasons. So, you all, please stay in touch with me!
Japan Skates would like to dedicate an article, in order to remember the disasters, remember the people who are still suffering from the disasters. We asked Japanese skaters to give their thoughts and to show their feelings on every single topic about it, and also we keep video massages from them.

Yuzuru, Daisuke, Shizuka, Nobu, Fumie
☞ "Remember" Shizuka ARAKAWA - Nobunari ODA - Fumie SUGURI - Yuzuru HANYU - Daisuke TAKAHASHI