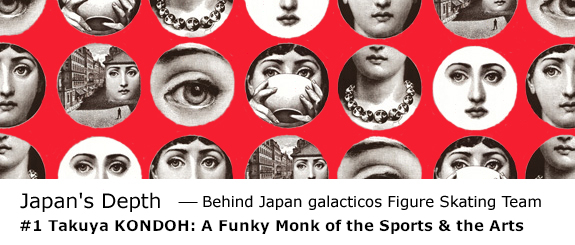 Our Japanese correspondent Aiko interviewed Takuya KONDOH @ Meiji Jingu Gaien.
By AIKO SHIMAZU 島津愛子
Jun. 15&25, 2011 in Tokyo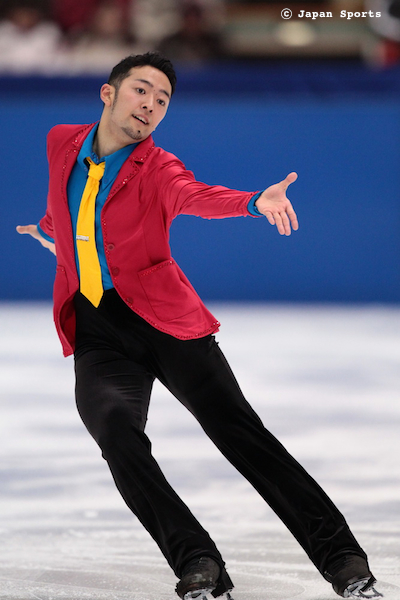 2010-2011SP"Lupin III" @ 2010 All-Japan
First of all, it could be a required element for you to meet Takuya:
- from 2010 All-Japan National Championships Reports
I was shocked to meet "Lupin III" in Men SP, Oh boy! What a boy! Ryan Bradley of Japan! such a performer we have!? I didn't know that. He fevered crowds with just a little moves! You must take note: Takuya KONDOH age19 http://www.isuresults.com/bios/isufs00007259.htm
*Lupin III on Wikipedia http://en.wikipedia.org/wiki/Lupin_III
He was placed 13th tonight. I wish you can see him in the future.
(YouTube keys for his "Lupin III" @ Japan Nats: Takuya, Kondoh, HD)
Such rapture never melt away, I can't wait! for "the future", to reach out to Takuya. I hope this will reach you to portray him!
+++ Boy meets Lupin III, and his beloved movies +++
JS: Takuya, let us know about your breathtaking (2010-2011)SP"Lupin III".
TK: Before the song was chosen, I wanted to skate "Played-A-Live (by Safri Duo)". But my choreographer Noriko(SATO: a female coach of Fumie SUGURI on her trainings in Japan), she said "It doesn't fit so much," to ask me to change it. So I got lost to watch TV, "Lupin III" was on air at that time. "…Okay, I will perform this," rushed to choose it - a blurred vision. (smiles)
JS: A blurred vision got to visualize a brilliant "Lupin III"!? …it's not like "Yes! I will play a role of Lupin."?
TK: No, it's not… it's like "well, it could be fun." I remembered Nobu(Nobunari ODA) had performed a "Mario" program (2004-2005SP"Super Mario Brothers"), that was so fun. In the same way, I had wanted my program to make fun for crowds.
JS: Yes, it's great fun for crowds, a jazzy treat as well!
JS: How was "Lupin III" made such an entertaining program?
TK: Noriko has made not so many funny programs… we collaborated to figure out "how will it go fun?", that was great fun for us. As I suggested "how about this move for this part?"
JS: Oh, it's made of your own touch. Like Akko(Akiko SUZUKI)!
TK: uh-huh. I didn't get involved mostly in my programs before, the songs and choreography were ready-made. Actually, the part of them I didn't like and didn't feel good to perform,
JS: YOU DID "NOT like" + "NOT feel good"! (laughs)
TK: (laughs) So, I wanted to do do-it-yourself this time.
JS: You did knock All-Japan crowds out! when Lupin knocked himself out on his SlSt - that had its moments.
TK: uh-huh? that's also our collaborative move.
JS: And also, by All-Japan, Lupin had been given the funky direction by Takuya, yourself! on such as the transition in between a Camel spin and a Sit spin.
JS: Your (2009-2011)FS"Selection from Morricone"… was that you might "not like"?
TK: No, it wasn't. (laughs) I like movies, then I picked 2 songs from The Legend of 1900 and Cinema Paradiso (Giuseppe Tornatore films). …A rash vision which I love them! The songs were difficult to perform… so difficult to imagine, to dance. Though, I had to have it throughout last season. I loved to perform "Lupin" so much, that "Morricone" could get even more difficult.
+++ About a Boy +++
JS: I guess you're a complete figure skater when you kill your jump elements. Takuya, what do you think of yourself?
TK: I think I haven't big advantages,
JS: Your dancing is the big advantage!
TK: Is it? well, I have tried not to have disadvantages, rather than to have advantages… but I still have disadvantages, Axel jump for example.
JS: Do you take any dancing class, off the ice?
TK: I have continued strength-training, but I don't have any dancing class.
JS: !?
TK: …I had it before, a little bit.
JS: You look an advanced dancer!
TK: "fun to watch" is the most important thing, I guess. I have tried to look so, like Akio(SASAKI: the same age male entertainer-skater, third-year student in Meiji University, a jewel of Japan Team). I love his performance. …wish both we could become advanced jumpers. (smiles)
JS: Your moves look shimmer, rather than glitter - that touch is your charm I love! love your armworks of spins and suchlike. At All-Japan, I saw "Lupin" turned on his most appealing charm when he appeared on the ice: smoothed body line; fantastic speed; comfortable footworks; upright posture that dresses you up to look larger. Even I expected that something cool happened there, when Lupin got ready.
TK: uh-huh? so pleased to hear that! I haven't heard a lot.
JS: Have you worked on your skating skill?
TK: Yes, I have. I have focused, since that was my disadvantage.
JS: What kind of trainings do you do?
TK: It's kinda… basic, not "fun to watch" - the groundwork of Figure Skating, you know. I have tried to "stabilize myself on the ice": to ride every edge with accuracy; with solidness; with smoothness, and so on. Unlike jumping, in skating you don't make a mistake. So you think just how your skating should be. The less you don't think of it, the worse it would get.
JS: You have defined your skating, definitely. What should your skating be like?
TK: I guess, there are 2 types of skaters, one: likes of Taka(Takahiko KOZUKA), who skates with responsiveness, the other: likes of Patrick(CHAN), who skates with boldness. Jeff(Jeffrey BUTTLE) is such a skater as Taka, as I see it. …I prefer Taka's skating. Taka tilts swiftly.
JS: tilts his edges?
TK: so quickly slides his edges, then so quickly bends his edges, as well. so responsively achieves a deep edge. Such a technique gives me the edge to work on my own skating skill.
JS: When I saw Patrick, his technique gave me an extra edge. His coverage distance/speed, intricate&complicated figures, which was lavishly ornamented with impossible positions on the ice - he magnetized me. His "boldness", what does it mean?
TK: Such as… half-circling with just one edge, so long gliding to be bent so deeply.
TK: …Well, Both Taka and Patrick skate so well!
JS: Like a 2 Top?
TK: Both of their skating help me to top my skating skill.
TK: Talk about what kind of skating I like… Or, I love to talk about Emanuel Sanduh! his skating, jumps, dancing, spins - everything of him I love! As for skating, Taka and Patrick are better than Emanuel, I guess, but I believe that he had both skating skills of Taka and Patrick. He had skated with both responsiveness and boldness. …Although I know he had no edge over Taka and Patrick, I love him!
JS: Your favorites of Emanuel's?
TK: Tango SP.
JS: So, love to talk about your "relaxed jumping".
TK: No! it's not of mine… hardly. I have tried to master it so long.
JS: What is the "relaxed jumping"?
TK: No matter how I jump, I'm going to tense up too much. So I need to minimize my muscle tension. Then I could have jumping consistency in the second half. It doesn't mean to "lounge" to jump, but to get reduced in order to stabilize jump elements.
JS: …Does it mean not to be restricted so much by your jumping form?
TK: No, it's not. It means to get restricted by my form, not to have other moves.
JS: I had track and field trainings. I did get myself restricted so much by the running form, 0.01sec by 0.01sec, that my muscle had gotten lost responsiveness, even I hadn't felt I was in-form. However, one day, …in a few days of 365 days, I felt I could be running with such an ideal form, without consciousness of restriction. Is that the same feeling as your "relaxed jumping"?
TK: That's it, I have tried so. At first, you can't perform as you should do, unless you conform with your form,
JS: Absolutely.
TK: Then you train over and over conforming with your form, to drop it on your muscle, dragging it away from your head,
JS: Yes, drag&drop!
TK: - But the form may get collapse, otherwise you would feel it right. So you mold yourself into your right form again, over and over. I haven't quality trainings, haven't many practices either. (his practice: 17h/week) I need to be restored by myself, by thinking, by creating. And I found this application, "relaxed jumping" - to obey the form.
JS: You have been getting molded into a male, you're in the different form from 2009-2010 season's, Takuya!
TK: As I said, I haven't many on-ice practices, that's a limited time. So I have many off-ice strength-trainings. I have tried to wear muscle as I should do. If you wear it too much, you feel heavy to move. Though I don't know what training is needed or not. I'm not knowledgeable about fitness, so ask my fitness coach to give tips.
JS: You got dressed in muscle.
TK: Since my last season's programs were much more harder than before, I had a lot jog and the preparations to make for them.
JS: I imagine it may be much more harder for boys in progress - like you, to stabilize jump elements, as the changing body may change the timing or something in jumping.
TK: I don't think so, if you jump in a right way. Your muscles work for you. Even if you get fat - you would feel heavy to move, though, you could still make a jump with a right form!
JS: So, "mold yourself"!
TK: If you get fat… you would lose your shape, sharpness, so could not dance as you did. …Some skaters Non-Japanese are beefcake, as Emanuel was! But my strength-trainings, is not supposed to make beefcake, but to have the edge for Figure Skating.
JS: You're a second-year student in Keio University, how about handling studying-and-training?
TK: I have organized booking classes and trainings, but… so struggled in exam weeks.
JS: I see…
TK: No matter what, I don't want to excuse, because both studying and skating have meant a lot for me in my college life.
JS: Takuya, stunningly! at your very first All-Japan in Dec, you injured your left ankle (avulsion fracture), when you fell for the first practice session in Nagano. Then an injured thief "Lupin" stole crowds hearts at all! hiding his injury behind a bewitching smile.
TK: well… was stuck.
JS: No! you seemed not so. The crowds seemed not to notice your injury, either.
TK: There should be no excuse for that, I hoped I would give it my all.
JS: Then, at the farewell moment, I saw Lupin got bliss from lots of audiences of All-Japan, such a big game with such importance.
TK: Such a fun moment. …Though, I could have done my best there, such regret has remained.
JS: …Lupin's first jump element 3Lz-3T got a shaky3Lz-2T, that looked hilarious choreography!
TK: So good for me! (laughs)
JS: So! I guess you have enjoyed competitions, which are not so many to be held.
TK: No! not at all. I have gotten nervous, to be concerned too much for jumps or something.
JS: …Was Lupin concerned before his performance at All-Japan?
TK: Yes. Terrifically!
JS: But Lupin had looked terrific, since he emerged on the ice.
TK: In training, I had always imagined how to do in nerves. So good for me! if Lupin could look so there.
JS: Have you done your run-throughs to "imagine how to do in nerves"?
TK: To keep turning it over my mind: "Now I can't make any mistake."
JS: - not to make any mistake, in order to "make a good result"?
TK: Yes, I have to make it happen at this moment. In order to do that, I have to make my jumps. Yet, I believe I can't accomplish my true "goal", unless I can make people moved. If my program contains clean jump elements, but, without emotions - that means nothing for me.
JS: I imagined Lupin would say so!
TK: That's true. (smiles)
JS: "skate with dancing"!
TK: That's right. Jumping is a component part of Figure Skating. The program which contains only good jumping, it would not be a good composition.
JS: A good composition, has it been supposed since your childhood?
TK: No! My childhood program contained nothing but "jumping!". With hesitation I hate to perform, so I had forgotten my choreography… I felt I was poor at performing, and skating as well.
JS: Are you kidding?
TK: (laughs) When I watched my program video, "it's kinda… no fun to watch", I found that and changed my mindset - since I was a high schooler.
JS: That was not supposed… you're the kinda performer, who has your own shimmer touch, you're so sharp and exquisite, staccato and legato - "such a performer we have!?"
TK: (laughs) that's kinda overrated?
JS: kinda Absolutely NOT!
TK: As for composing a program, if you choose the song someone used before, someone's program would reflect on your composition. Such a song is not supposed to be picked. Unfamiliar song with Figure Skating is preferred.
JS: Takuya, your long-time(6 years) coach Minoru SANO, he is also "fun to watch" when he brings commentary on TV. Tell us about him and his coaching. (Minoru Sano: a Men Single bronze medalist of 1977 Tokyo Worlds, 5 times National Champion in a row, former students including: Shizuka ARAKAWA, Yamato TAMURA.)
TK: He is "fun to watch", indeed! (laughs) Such a funny man gives me precise tips. Both technically and mentally he takes care of me, so neatly. I trust him, admire him as well.
JS: How about your choreographer Noriko?
TK: I imagined she would be a strict teacher. (laughs) Yet she is a sweet lady, whom I can suggest without hesitation.
JS: You're a big fan of music, movies, literature, fine arts. A total-packaged Arts fan. Let us know about your favorites!
TK: As for music, I listen to what to use for my programs, and also I love to play my own favorites.
JS: Your music playlist is much exceptional, as aged 19's. DJ Shadow is currently playing, but Nirvana and Smashing Pumpkins, Breakbeats artists were hits in 90's.
TK: I bend my ear all-around! I love Hip-Hop, then Breakbeats caught my ear. Such as Nujabes(Japanese artist), Orbital, Chemical Brothers are favorites.
JS: Your movie playlist is quite exceptional, as well. Not so many competitive athletes watch movies from classics to cults.
TK: I watch both Non-Japanese films and Japanese films! Japanese are a bit preferred.
JS: Your Best Ever movie?
TK: Gattaca.
+++ Close Encounters of the 2011-2012 season +++
JS: You called it "fun-to-watch program" - your brand-new SP"Hava Nagila", where did this Israeli folk song come from to an all-round music fan, Takuya?
TK: I had explored a lot. I supposed to "make it different!", but a difficult song to perform was not supposed. So long way to meet it, which is the unique x universal music. Mostly, I search on internet sites like YouTube, I found one video, Plushenko performs this. I didn't know he had performed this, then I was going to share. - "Well, it's okay." I never do that if his program was so familiar. (smiles)
JS: (smiles) "Okay" to choose an identical song, if that's in a sneak way.
JS: "Kinda Crazy in Dance" is your own quote, is that kinda to melodize its musical note with your dance?
TK: Yes… kinda how will it go? (laughs) It was just composed.
JS: Forthcoming FS"Slavonic March (by Tchaikovsky)", it's not kinda "Best Classics" track, but a golden-classic all time, it sounds colorful.
TK: I wanted to perform "1812 Overture" (one of Tchaikovsky's masterpieces, dedicated to "Battle of Borodino" the year 1812) this time, but I thought it could not be the uplifting music in a few countries. "Slavonic March"(performed along with "1812" frequently), I had wanted to feature for a long time.
JS: I want to say wow, for you have been familiar with it for a long time. Where did it come from?
TK: My mother plays violin, so its CD has been beside me at home.
JS: And you play piano, What a nice family!
JS: Even though it's a march, it marches into various moods. Even it leaves a trail of literature.
TK: Yes, it's emotional, sounds epic as well. LP is long indeed, then a dramatic song was supposed to be picked. I guess it could hook crowds, so hooked it. It has a fine hook. "fine to watch" is this FS theme… hope so? (smiles)
JS: (smiles) Overture!, Scherzo! and Finale!!! -like? so fun to wait for it!
JS: If you add 3A into your elements, things would be going to change…
TK: I have it this season. From SP, it has been planned!
JS: …so, it has been made in your trainings.
TK: …hardly. It hasn't at all since I got injured. I had made it before, but hadn't its consistency enough, then I had removed it.
+++ Phantom of the Paradise +++
JS: Figure Skating is a luxury sport, so hard to continue…
TK: Every single year, My parents tell me off, "Quit! if you don't give it your all." It costs lots of money and lots of time as well. I agree with them. I have to have positive aspects, as an athlete.
JS: So, what are Figure Skating's positive aspects for you?
TK: To have fun! (laughs) fun to dance, fun to jump.
JS: Exactly! I think Figure Skating has both Sports aspects and Arts aspects, that is its magnificent aspect.
TK: Exactly, Jumping or other techniques are based on logic, so you learn how to do, to have fun. On the other hand, you haven't logistics in dancing, so you imagine how to do, to have fun, as well. There is nothing like this sport, you know.
JS: Yes, there is nothing like moves of Figure Skating, among performing arts off the ice. nothing like its speed and distance, as well.
TK: Indeed. But you must get your on-ice moves in sync with your off-ice imagery. No matter how much you have jumping trainings or dancing off the ice, you have to float on the ice, then have been caught out by different phenomenon, which you bring back off-ice to inspect. - "Try&Error", over and over again.
JS: Puppeteer Takuya operates the puppet - yourself. Infinite defining!
JS: Takuya, you are considered as a "diehard" fan of Figure Skating… I'm not sure. (smiles) But I'm sure that you are an exceptional Figure Skater, who has watched others performances a lot.
TK: "diehard" - I'm not sure either. (smiles) I watch only Men Single, to see not particular skaters but every single detail to rip, or to integrate into my own things…
JS: "to RIP"! (laughs) …Are you a "Researcher of Figure Skating"?
TK: (laughs) Yes, something like that. To research, is the point.
JS: something like "Try&Error"!
TK: Almost every day, I collect their videos on YouTube or somewhere, then watch them in slow motion all the while.
JS: in slow motion!?
TK: - to analyze their jumping forms from entry to exit. Or, to compare them with my own form, which was recorded in trainings.
JS: Sea of defining… You so keenly learn sports methodology by yourself, to execute it!
TK: As I love that. And as I mentioned, I have so limited time to train on the ice, that I need to be restored off the ice, for the rest of the time. …Though, it sounds a bit serious! I love to research it, anyway.
TK: In researching, unknown jumps hit me. "How could it be done?" Then I ask my coach Minoru. He is such one of experts as he has sat in the nearest viewpoint to see the newest jumping techniques, as a commentator or something. He welcomes my questions, I have learned a lot from him.
JS: I consider you are in the monastic day… for sure! As I saw you & Minoru training for a while, you had tried jumps type by type / one by one in your "Try&Error" method. As if funky monk and his father had striven for their consecrated duty in the ice monastery!
TK: (laughs) So, I consider I'm doing such monastic things, for sure!
JS: So, are you likely to exit your ice monastery, when you graduate from your college?
TK: Likely, yes.
JS: …
TK: I have imagined that since my childhood. Because everyone moved on after graduation. Although, such circumstances are likely to change for now, actually I'm not likely to earn money with Figure Skating.
JS: …These hard days. But, such as a choreographer? Do you suppose you will connect with Figure Skating after that?
TK: Well… I don't think clearly at this moment. I mean, I can't realize the future at all, rather than I don't "suppose".
JS: As everyone can't do that. …"what to do now", is Figure Skating?
TK: Yes! I've done with so much fun!
JS: Definitely!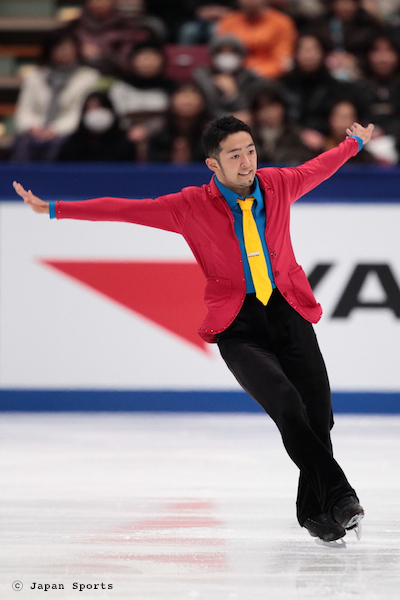 2010-2011SP"Lupin III" @ 2010 All-Japan
JS: At All-Japan, I met "Lupin" for the first time. He was mean, earnest, bluesy, poetic. - I imagined you were the kind of boy like him. Yet, you are the kind of boy in "Stand by Me", in the summer breeze, and an Arts fan, a funky monk, as well! I was shocked to know you, Takuya, you had striven with "Try&Error" to paint a picture of Lupin III. You have molded a Figure Skating program into your own taste, in sportsmanship-form. That is best viewed.
TK: I want to adapt artistry of music, books, movies… etc, into my program, as I want to learn artistry from Figure Skating. I wish the Arts and Figure Skating could be connected. Even though that is supposed, you can't stick artistry on your performance immediately, so you must drag it & drop it on your base. It's not like an overnight work. I have to experience the Arts as much as possible.
JS: So, are you likely to mold anything into Takuya's taste, when you complete your competitive career?
TK: Absolutely, YES!
JS: hope to experience that!
JS: A farewell moment. Please leave a message for us.
☞ Takuya Kondoh @ Meiji Jingu Gaien on June 15, 2011
+++ translation +++
TK: I would like to give "fun to watch" programs this season, so please keep in touch with me.
JS: ((How short!)) …Have You finished? (laughs)
TK: (laughs) DONE! "fun to watch" programs expanded with 3A, I give it my all!
― He couldn't make a Japan A/B team of 2011-2012 season. Takuya's much challenging new season will be kicked off in Oct, a regional All-Japan qualifying competition, sectional competition, All-Japan, and Intercollege competition to go!
- 2 years later, Takuya has been wowing Japanese crowds, now seems to be a cult-favored skater, who auditioned for the "Get the Chance" spot, cast in Friends On Ice - Shizuka Arakawa producing annual ice show in 2013 late August. "Lupin"'s back his last competitive season 2013-14, he had savored its premiere at Friends On Ice, every single moment of "the very last first time" showtime for him, that buoyed crowds as well - the mean, earnest, bluesy, poetic man was finely tuned for that moment.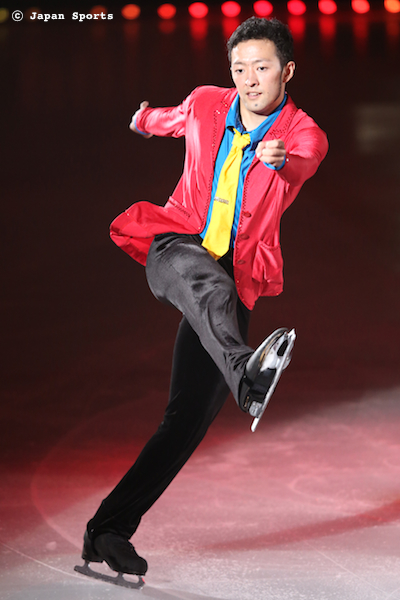 2013-2014SP"Lupin III" @ 2013 Friends On Ice