MACHIDA & MURA show Japan's "Core" strength
Our Japanese correspondent Aiko interviewed Tatsuki MACHIDA 町田樹選手 & Takahito MURA 無良崇人選手 @ 2012 4CC 四大陸選手権.
special thanks to: ROBIN RITOSS for superb photos
by AIKO SHIMAZU 島津愛子
February 11, 2012 in Colorado Springs USA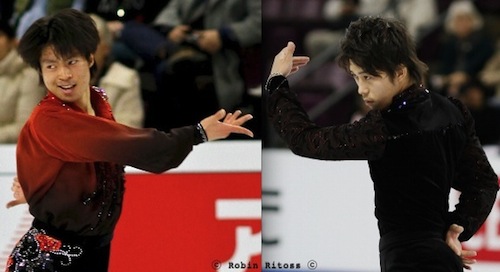 Tatsuki MACHIDA / Takahito MURA @ 2012 4CC
JS=Japan Skates TT=Tatsuki MACHIDA TK=Takahito MURA
JS: Everyone's talking about "the influence of highly altitude" here(Colorado Springs, where 4CC had been held.), so do we. Actually I experienced it, after 2km running, as I was shocked to have lactic acid with my legs, suddenly, unexpectedly. How had it influenced you?
TT: In FS(the day before this interview), It attacked my body, too, rather than my lung.
TK: I had collapsed with nerves, to go blank throughout FS, so even I never got tired…
TT: No Way!
TK: …mmmm…(smiles) wasn't tired, had no tiredness, then I finished without tiredness. (smiles) Rather than from it, I had suffered from mismatch between "image" of my mind and my "body" motion.
In addition, (to Tatsuki:) Was you unable to move your arms up?
TT: It attacked on arms, and legs. But, you know we all skated at the same rink.
TK: There was exception: if you train at this rink. (smiles)
JS: Also, I'm surprised at my injured foot arches condition, it has gotten better since I came here. How about your physical condition?
TT: I haven't any injury at this moment…
JS: You seemed to get injured at the beginning of the season, to be struggling with it for a while.
TT: uh-huh, but it was not so serious. It had healed in a few weeks. In the competition(Nebelhorn Trophy Sep.21-24) practice, I got tensed, and mistook at the landing of 3A, and my right knee and right ankle got injured - "sprain". Now it's okay!
TK: I feel myself so light here,
TT: (nods)
TK: Though, I have a low back pain for a long time, then it has gotten worsened if you're moving from low altitude to high altitude. Except for its pain, I'm okay, too.
JS: After performance, or in press conference you skaters are asked for "quotes". So, I ask for your 4CC "self-commentaries", for this exclusive interview!
TT&TK: ? (smiles)
JS: "how to prepare, how it went, how it ended." - like a match report by yourself.
TT: In SP I had been tensed to come out as usual, as the 5th skater of our Group (after Patrick CHAN), I felt good vibes of crowds, to have confidence of myself, "I'm gonna be OK today!" (smiles) Unusually, I wasn't tensed to start. Usually, I could have tensed until I finish the 2nd jump element(3F-3T), as you must have no mistake in SP. But I was going to "NEVER mistake," had been so "even" to execute every element. A beautiful 3A(GOE +2.0) DONE, strong confidence I had kept having of myself… So difficult to give "self-commentaries". (laughs)
TK(&JS): (laughs)
TT: Overall, I was comfortable to give a story to tell in skating there. (He set his new national/international PB 82.37, placed himself in 4th.)
JS: So difficult to feel Tatsuki's supremacy of rotating jumps, if you watch on videos. Particularly, 3T in 3F-3T(GOE +1.30), and 3Lz(GOE +1.30), these magically fast rotations were striking a joyful note of crowds, "can't believe!"
TT: (smiles) All SP elements were displayed neatly.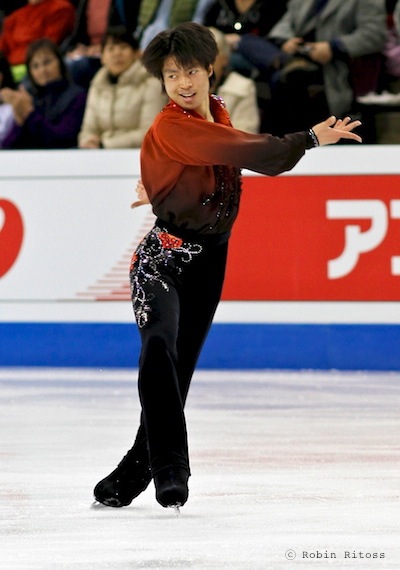 2010-12SP"Dark Eyes" @ 2012 4CC
TT: but FS… there was nothing but "nerves". As the first skater(of the last group), even in warming-up 6 minutes I was struggling, as I couldn't prepare enough, though, I hadn't too much tension. Since I fell on my opener 4T, I had to fight against pressure, "I can't make mistake anymore." So, mentally it was a tough performance, but I had never given up, to be strong-minded to perform. (placed in 10th 125.67, overall 7th 208.04)
I found that "FS with quad" needs physical strength, actually it needed more here, in high altitude, that I need more and more trainings. …This "self-commentaries" needs more and more wording. (laughs)
JS: No! yours described your programs so neatly.
TT: (to Takahito:) Now your turn, gonna so difficult. (smiles)
JS: Takahito, at first, please give your self-commentaries "How could you kill your 4T in SP?", which you landed with three turns at most attempts in SP practice.
TK: Overall, all my jumps had troubles since I came here, as I had totally mismatch between my rotating image and my own body motion. Then nothing I could change, had been going to FS, in even more terrible form.
In SP, on my opener 4T-3T, I could impress its "flash" image there(GOE +1.57) - "the motion of regular 4T of mine", as I entered it unconsciously.
JS: "unconsciously"! …Didn't you have consciousness of your form or timing, in jumping?
TK: Like "my body itself remembers those", no matter how I get exhausted in trainings. So, I didn't care about 4T, no matter how I failed in it in practices and 6 minutes.
Then 4T-3T I settled correctly, 3A(+1.57), 3Lz(+1.00) were done so comfortably… though, I stumbled at the end, in the footworks(CiSt2 +0.36)! (smiles) But, tiredness hadn't affected that, as I had kept turning it on my mind: "Show more and more body movements!", then I lost handling my footworks to wobble unexpectedly.
In SP, I hadn't any pressure - I had never been scared of mistakes. Very best SP I had done, I guess. (Actually, he set his new national/international PB 83.44, placed himself in 2nd.)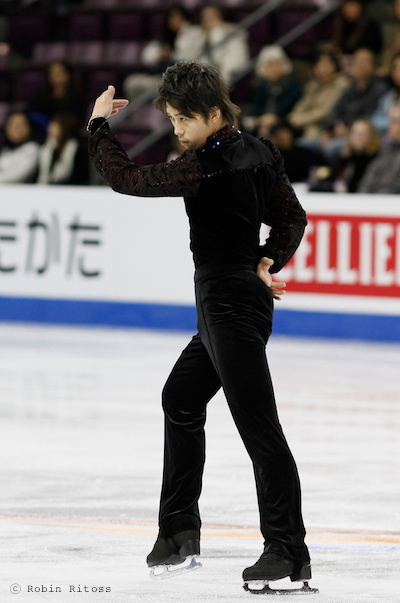 2011-12SP"Red Violin" @ 2012 4CC
TK: On FS, morning practice, 6 minutes, the competition, every single session I had "something wrong" with me…
JS: No, you hadn't wrong 4Ts, as I saw you killing them the most among the last Group quad jumpers(CHAN, MURA, TAKAHASHI, MACHIDA, D.TEN), in the morning.
TT: I saw, too.
TK: Yet, those were done incidentally, its form didn't conform to my image. So, I don't think those were good jumps at all.
Terribly, I was going to be depressed practice by practice since its morning, that forced me to have more pressure, to complete my program in FS, here in Colorado. Moreover, myself wasn't in-form. Such circumstances concerned me, I couldn't fight against nerves. Even if I suffer from nerves, I'm going to overcome when I start skating to the music, but this time, I was going to blank throughout FS, entirely… that can't be analyzed even "how I did jumps". (smiles) (placed in 6th 133.72, overall 5th 217.16)
JS: Well, now I see how Tatsuki & Takahito had competed here. Thank you!
JS: You both have been training in the States since this season. I think "The changing time is never coming, but you can change the things when you move on. Nothing can happen unless you make difference by yourself." So, I guess "the moving time" came to both of you, in between last season and this season.
TT: You know, if you want to make good results, you need good fortune, which you could take with lots effort. "You have to turn the tables by yourself." It would be late to grab what you want, if you wait for the circumstances changing, if you wait for someone helping. So you need to consider how to make it happen, to "go your own way to your goal"… something like that, you need to "steer your course" for your goal.
TK: One of the reasons why I was going to come to the States is, my lack of motivation to skate in off-season last summer. I was going to this season, like "Something would change," I had been undeveloped-minded, but finally at the very end of this summer, "I never do that like this," to come here, Colorado to train, that also my coaches had recommended.
The first, I thought that "I would have some run-throughs" here, but with the team mates such as Patrick CHAN, top junior skaters, training around them could change my mind set, that meant a lot to me.
Also, it changed me that Tom DICKSON(his choreographer) gave me lots of affection, to make me "come here again and again! throughout this season."
Since I set myself moving on, had been helped a lot by teachers, as well, eventually I was going to complete "my own skating" mostly, around All-Japan nationals. I decided to come here - that is so good for me.
JS: In the States, people are smiling, you know, I really love that. In Japan, myself is blue-sky minded to be smiling, but I don't meet any person smiling in the street, mostly,
TT&TK: (smiles)
JS: so smiling American people make me happy, smile more! How do you feel in USA, out of Japan?
TT: In Japan, I know every person around me, I have to care about how other people look at me… that works in some situations, though. When I'm not in-form, I have to care about people's attention, then I'm going to even worsen my form. But in USA, people are going on their own way, to concentrate on themselves, you know, as skaters don't look at what others have done, on the ice, mostly. I really like such a way in USA, that I can concentrate on nothing but myself to train.
But off the ice, we all come together, to go out for the movies, dinner in the weekend, we take day-off after Saturday session. They have welcome me, to have fun time with them.
TK: In Colorado, skaters concentrate on them selves, too, and, differently from there(Tatsuki has trained in Lake Arrowhead, CA.), we "come together to train!", as we all get motivated if Patrick makes 4T. Such atmosphere I haven't felt in Japan… Of course, in Japan we're going to "train together", however, that works differently from USA. Because Japanese people and American people are in so different mood. (smiles)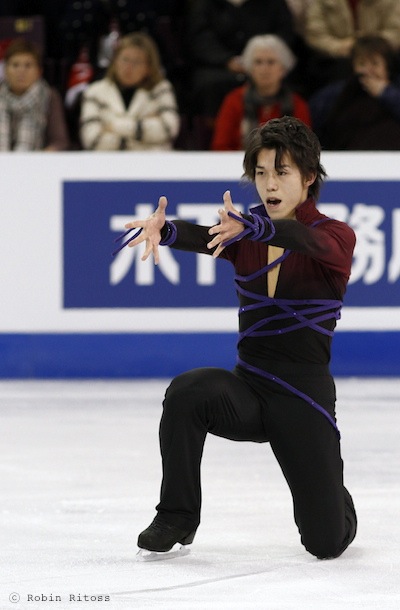 2011-12FS"Four Seasons Tango" @ 2012 4CC
JS: Japanese Men Single, Daisuke(TAKAHASHI),Nobu(ODA),Taka(KOZUKA), they dominate as "Big 3", while Yuzuru(HANYU) is rising, and you Tatsuki,Takahito,Dice(MURAKAMI) have integrated into its quality team, then Kent(NAKAMURA) and other college students, Juniors are following you. So, I see you are actually "fundamentals" of Japan Men team, whose depth is showed by you, "Core 3".
TT: Exactly, we are placed in its "core". (smiles) When we make our ways, both of the top and the bottom get interacting! …but, you know, we're stuck in the middle. (laughs) (to Takahito:) agree? we're in the toughest position, though, we could be some reason why Japanese Men has strong squad, as you say, but… such a tough role! (laughs)
JS: So you're going to play such a toughest role, to Sochi Olympics!
TK: When I think of our Japanese Men team, I feel we must "be chasing top group" "run over top group", as much as possible. In the finale of the road to Sochi Olympics, at All-Japan I hope we will perform to "make the close, terrific competition", make crowds excited: "Who guys make top 6 and next Group in FS?" I think it could make interact also Japanese Figure Skating itself, that how we reach top Group: Daisuke,Nobu,Taka,Yuzuru, as people reckon Figure Skating is of "Ladies" in Japan, you know. So, we're going to play a role to "attract Japanese attention to Men", to come together to reach them.
JS: In National Winter Sports Championships this January, college students had been already affected, "Core 3 are going forward to train harder, so am I."
TT: (smiles) So do we, as top group are going forward, to top Men Single ranking.
TK: For me, if Japanese top group are missing, I will "miss my target point", as well. You know, there are the leaders of Men Single world abroad, but at first we have to integrate into our Japanese top group as soon as possible.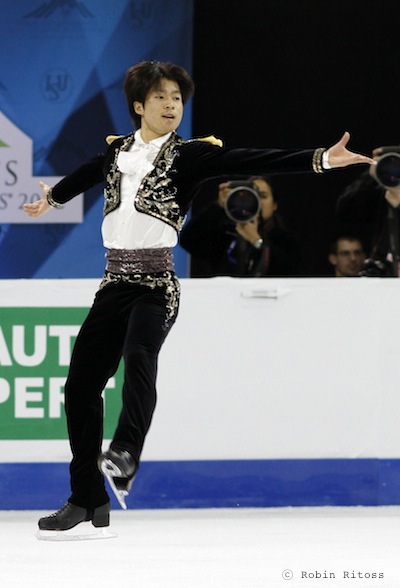 2011-12FS"Don Quixote" @ 2012 4CC
JS: Now I would like to ask each question. Tatsuki, you called your FS"Don Quixote" theme is "love"… What a lovely quote from Japanese guy!, who never talks about "love" in public, in general.
TT: (laughs) Its choreographer Stephane LAMBIEL can do that. And also, ballet "Don Quixote" theme is "love", you know. My program is not based on the ballet program, but it was inspired by it, made of its taste. Usually, I give theme to my program… it's so easier to perform. This program: "Tell my loved one I love her". It's a story of a boy and a girl, who haven't known each other. I'm looking for, "Where is my girl?" then I meet the one, to ask her to be my girlfriend, and there is a happy ending. Now I must have more run-throughs of it, to tell its story.
JS: I heard one American grandpa whistling after its happy ending!
TT: (smiles) so unique touch of its choreography Non-Japanese made.
JS: Then Takahito, please let us know about your 3A. I love "ISU communication: Scale of Values, Levels of Difficulty and Guidelines for marking Grade of Execution"!
TT&TK: ? (laughs)
TT: uh-huh. (laughs)
JS: I could almost make it a poster!
TT&TK: (laughs)
JS: Of its Jumps GOE 8 bullets, "good height and distance" and "effortless throughout", Takahito seems to intend to check with your 2 types 3A, as I guess you have both "height&distance"3A and "effortless"3A.
TK: uh-huh… I have made them differently, in a sense… they have different entry, as well. In the 1st half, I have enough strength, to try to "make jumps impact". Skating into the 2nd half, I'm going to get tired, but still I have jumps to go, even after the 2nd 3A, as well as I have to complete my program giving my all by the end. So, the 2nd 3A should be done "organized" without effort, in order to use strength as little as possible. - These 2 types.
JS: - "devastating 3A" and "comforting 3A".
JS: And I can't wait for "Judges Scores" sheets posted,
TT&TK: (laughs)
JS: If those were posted in the street, lots of sports fans could have come together to watch Figure Skating.
TT: (smiles) Yet, lots of difficulties they could have, to read the sheet. As its manual("ISU communication:") hasn't been posted in the street, either. …Indeed, top Men have beautiful ones, whole the sheet, everything is so beautiful!(smiles) They don't have GOE-, do have Level features, to make a beautiful sheet. So we have to consider "how to make it neat".
JS: Do you look at the sheet frequently?
TT: After competition, the sheet makes sense when I compare every element score to my elements on video. You need to consider "Why is this element credited much GOE+?", reading its manual.
JS: For our happy ending, please leave message with your self-commentary on this season and expectation of next season, to your fans.

TT: I always appreciate your support. I have received your affection, sincere words on letters, to get motivated "do it again," no matter how I lose it. This season I have finished, it has been a long and winding, tough and suffering season so far, but I have overcome to get here, and also I have had a big moment with you, so happy to skate!
For next season, I need to consider how I have competed this season, in order to "take wing". Off-season is coming now, I have to do hard to prepare next season, hope I will make a good season.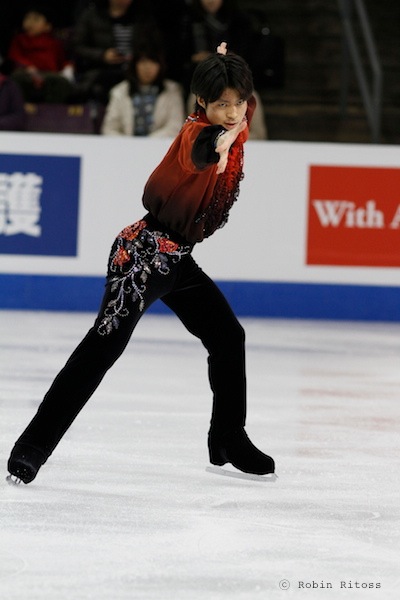 2010-12SP"Dark Eyes" @ 2012 4CC
TK: All the way from Japan, to Colorado Springs, you came here to cheer me, that I'm so grateful. There are even more people have watched on TV at home. Your support has always motivated me, encouraged me when I'm lost, as well. I owe you, appreciate you all.
This season I missed GPS, to compete in ISU B competitions for All-Japan. Since I was late to make programs, I hadn't completed them by All-Japan - where I set some target. There, although I failed in SP, in FS I made a "4T" and a good program, I gave what I could give, that was satisfying. Such confidence of FS and reflection of SP could make way this SP in 4CC.
Regarding myself, I did change, definitely - comparing myself at the starting point "Colorado", where I moved on to change me, with myself at the goal, here I finish 4CC. I have changed my mindset, moves and jumps, as well. Then I set my present self at the "staring point" of the next season, to go forward more and more this way, training harder in Colorado. I give my all for next season!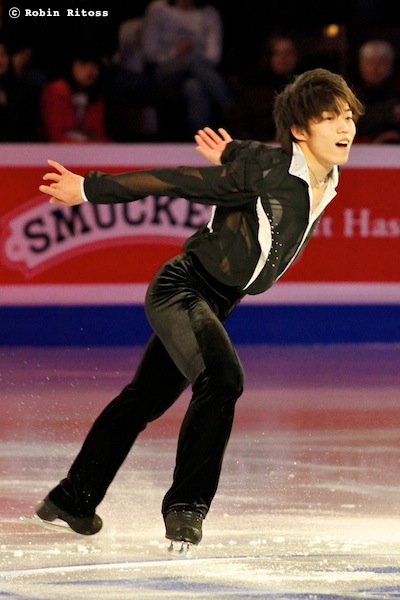 2011-12EX"Neutron Star Collision" @ 2012 4CC