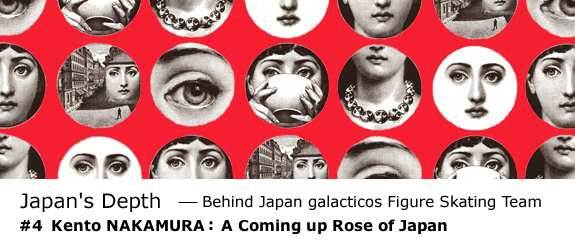 Our Japanese correspondent Aiko interviewed Kento NAKAMURA @ Meiji Jingu Gaien.
By AIKO SHIMAZU 島津愛子
Sep. 4, 2011 in Tokyo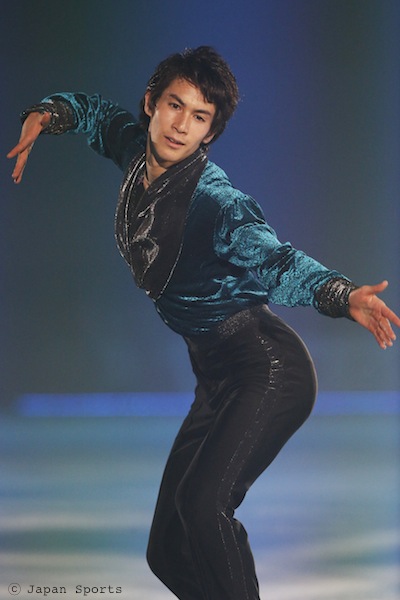 2011-2012SP"Fugata" @ Dreams On Ice
JS: Thank you for joining us, "Kento NAKAMURA, a good looking guy skater! on JapanSkates.com."
JS: …I really disagree with such an introduction - "Kent has good looks."
KN: …(smiles)
JS: "Kent has good looks." - Indeed! As everyone agrees with it! YET! My thumb never gets up for that quote.
KN: uh-huh. (smiles)
JS: Kent HAS: majestic skating; fabulous height-distance jumps which shows handsome rotations; the soul of dancing; stunning moves like "mie (in Kabuki performance)" poses, that could not be performed by Asians nor Westerners, for those need both advanced strength and exquisite timing; the "magnetic field" of your performance, which is produced by your magnetic feeling - though you call it "peculiarly sweet-tempered". …Even though Kent has a lot to be viewed, Why do they view nothing but his looking!? …How about you, Kent?
KN: (laughs) - "how I feel about it"? (laughs)
JS: YES! reply to them!
KN: (LOL) so difficult to reply! (laughs) …well, let me think… I don't have negative feelings with that quote at all. If I haven't been given other quotes, I would be satisfied with it. Even it makes me happy. (smiles)
KN: As Japan female football team has gotten featured by media, since they won a gold medal at World Cup, people "love the ladies," have been going to take a look at football itself, some people would become football lovers, I guess. So, if some people give me attention, to give Figure Skating affection, it's my pleasure! No matter what introduction is given, it's important for the sport to get featured, in order to make progress.
JS: Now I give an introduction for you: "Kento NAKAMURA, such a responsible skater!"
Kento NAKAMURA: 20 years old, second year student in Rikkyo University, current National Jr. champion, 8th in 2010 Nationals, competed in 2009 JGPF.
JS: Tell us about your last 2010-2011 season.
KN: In the beginning, I would like to reply to the requests "go to JGPF again, compete there 2 seasons in a row," but I hadn't had enough trainings to do, hadn't gotten in form enough, either. I had been concerned, "things go well?". I found that even it could be hard to keep the same rank for 2 seasons.
JS: As for the last season, your main competitions were Junior Nationals(1st), "All-Japan" Nationals(8th), and World Junior Championships(14th), I guess. How were the things going to go for those competitions?
KN: In essence, I couldn't finalize the things in trainings. Then missing things caused such results in competitions. I think I hadn't completed myself. So I don't ask myself "What's wrong with my performances?", already I have known why. I ought to pay. "If I could complete myself, I would have made my way." such regret I have. I could be hardly restrictive to myself last season.
KN: Still I haven't been restrictive enough. At first I must change to harden myself this season, for I haven't made progress if I would repeat what I had done last season. When you are in competitions in a right mood, your skills would come out in a right way. I have to learn from the last season to make progress this season, competition by competition. Then, if I could make good results as well… so good for me! (smiles)
KN: As for Jr.Worlds, I should have been an advanced skater of the competitors, since I won at Junior Nationals. I wasn't able to show my experience, finished in last place of Japanese… so depressed at myself. Really sorry for everyone who gave me their support. You can't make your way until you give your best. As I see it, though I had some good performances last season, I had "ups-and-downs" through the season. I hope people will enjoy my performance, without worry. I owe them who cheer me. As well as consistency owes to me, that makes no worry. …I hope to turn the tables!
JS: So, it's my turn to talk about your performances at Jr.Worlds! which owed so much to me, that made its result(14th: SP15th/FS14th) forgotten!
KN: …Mmmmm… (smiles)
JS: I love your performances at Jr.Worlds!
KN: …uh-huh? (smiles)
JS: I'm always going to see Figure Skater's "race" tactics on your programs, as I am on track&field races, since I had track&field trainings. Like, "Now this skater is going to meet a dead end - lactic acid,"
KN: - You meet with details. (smiles)
JS: (smiles) Yes I do, to analyze details as a race. My analysis of your Jr.Worlds: Kent accelerated yourself from the start in both SP/FS. In SP("Bugle Call Rag" =BCR, it's also his 2010-2011EX), you nearly met a dead end quite before step-3Lo, I saw "it's coming… that lactic acid!" As you had seemed to dance with soul but without full of energy. You know, sometimes your soul leaves from your body to trigger off, then lactic acid takes the lone body to the hell. I saw it happened to Kent there, but you weren't going to be defeated by lactic acid, entered a SlSt the last spurt of a bugler, like "(lactic acid,) Go ahead, make my day!", you jazzed yourself up so badly!
KN: …(smiles)
JS: For me, that was the best BCR SlSt of the season, among SP/EX performances! While, you couldn't keep jazzing, since you must pause your groove before the last element Flying Camel Spin, then lactic acid had dominated again… you feel you are drowned by lactic acid, when lactic acid re-flows shortly after its ebb. I felt that for one camel was knockin' on heaven's door! And, eventually it fell on the end of music, to be gone…
KN: (laughs) Well… I must admit I might be struggling… but it caused what happened to me there that I hadn't trained enough. Things were different from a good moment of 2009-2010 season. I could reform myself when I was not in form, I could restore myself "naturally" to the end after falls, I could remind myself what I had done in trainings. - My body remembered such feelings 2 seasons ago, and lost them to be upset by worry last season.
JS: …Well… My body remembered such a feeling that Bugler Called Rapture - such a good race. If Figure Skating was just an art, it would be a flop, yet it was a smash, if you remember Figure Skating is the sport, as well. As you had been replying to your limits, to get up and give your "mie" finishing pose immediately after that fall in the end.
KN: - that could be worth a little bit, but I should not have fallen! as everyone should be struggling in the end.
JS: In FS("Malaguena"), you turned the tables to dance with both your soul and full of energy, you had made your swift nifty day from the start. But, "It has come again." around CiSt.
KN: …(smiles)
JS: Then you lost your second 3A in the 2nd half, which got "A"… In losing your jump elements, you had been keeping going to impress your "mie" moves onto the ice with all your heart. If it was on the stage of other performing arts, you couldn't have done that - you pulled at crowds heartstrings with your sacrifice named as sportsmanship! Such dedication meant the art to me.
KN: …Thank You! (smiles)
JS: Thank You for such programs of Jr.Worlds!
JS: I suppose you must be confident about your stamina, as you could get flashed from the 1st half of FS.
KN: Well… I supposed "I must have flashes with speed," there. But I couldn't do that entirely in trainings, therefore, such flashes couldn't last on the ice, I had burned out by the end.
JS: Well, you must have different conditions day by day.
KN: So you must try to have the same condition everyday as far as possible.
KN: …Jr.Worlds meant the fulfillment of the finale in my junior years, such emotions I brought there. I saw I was lacking in both mental and physical aspect. Jr.Worlds replied to me "a lot to do have been left me." Some goodness and some badness was shown there. Although the result was unsatisfied, I was satisfied with what I had experienced there. As I "make my day!" to hold up my head in hard times, "make sense how unrestrictive I have been," to keep my head in mistaking.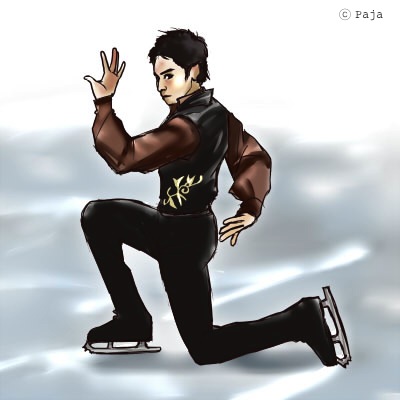 2010-2011FS"Malaguena" @ Jr.Worlds
JS: BCR flipped your appearance, as it blossoms with quick and lively moves. Non-small Kent feels like a great dribbler on BCR. Kenji MIYAMOTO, a Japanese choreographer, well-known as Daisuke's(TAKAHASI) and Akko's(Akiko SUZUKI) quick&detailed programs made it. Did you suppose you should expose such moves?
KN: I must have them, rather than "I should". I didn't want to define like "I can't do that", so I had tried to execute such challenging moves. "I bet Kenji will give you a new look," suggested my coach Yutaka(HIGUCHI: a former Kenji and Yukina OTA's coach, who teaches Yuki NISHINO as well). BCR meant the endeavor of the last Junior season, as I had tried to dance in a new style, to collaborate with a new choreographer.
JS: You had given a cool looking on your previous programs, but you have given a friendly looking on "hot" rhythms of this swing jazz music. You feel like so close to crowds. Recently I interviewed Kenji himself, he gave you his compliment so proudly: "Kent jazzed up naturally," in your collaborating.
KN: So nice compliment! (smiles)
JS: "So nice compliment!", too, said Kenji, for "So heavenly Kent appears on BCR, to hearten crowds." my compliments to Kenji.
KN: (smiles) BCR meant so good for me! Figure Skating programs had been formal genres to me, such as classical music, movie soundtracks. BCR took me into the new stage, which provides heart-to-heart fun moment with people even in competitions, "that's another option of Figure Skating," I found.
JS: BCR took people into - Kent presents - "magnetic field".
KN: (smiles)
JS: Do you know the "inflatable dome"?
KN: No? (smiles)
JS: You do know that dome, where kids bounce playfully in the air, you see it at the shopping malls.
KN: Yes, I do know it.
JS: BCR feels like it! as if I'm bouncing in it on BCR!
KN: (laughs) I don't know that feeling…
JS: (laughs) You don't know that euphoria, Kent! unless you experience your own BCR. And when it's around closing time, it feels like in the evening on Sunday.
KN: (smiles)
JS: Kenji, also said that he worked on helping you to reduce your muscle tension, by which you inflate yourself, in a way unlike Asians…
KN: Yes, he does ask me to do… On the ice, Kenji looks bigger than he really is, with his gentle moves, which makes your energy ebb more gently than stiff moves. I admire such moves of Kenji, that I would like to perform as my teacher(Kenji) had given to me, as much as possible. Those directions worked especially for me. I love to work with Kenji! He seems to be strict, yet, I know he has tried to take me to the next stage.
KN: I have worked with him for 2 seasons, have his 3 programs: BCR and this season's. Each of them has given each new dancing style to me. …So! this season I must reply to his affection as much as possible, to give my all! for myself, my teachers, and all the people who give me their affections.
JS: …I don't know why, in BCR as EX you do kill your 3A, connected with full-blooded dancing before preparation for it, though, in BCR as SP you don't kill it connected without such dancing… Moreover, you did kill a phenomenal 3A, which could be credited GOE+2, as soon as you were called to come out onto the darkest rink in the opening of DOI(Dreams On Ice: an annual back-to-season exhibition of Japan Team)… A mystery on the ice.
KN: (laughs) I don't know why, either. …Poor trainings could write the mystery?
JS: I prefer BCR as EX, as a creation.
KN: - created in a different format from competition's. I feel I perform freeform programs on EX, but I feel I could have redone things of EX in competitions,
JS: Definitely! you can!
KN: (smiles) Such regret I had…
JS: Such a mystery was written.
KN: uh-huh. (laughs) lost in the labyrinth on the ice.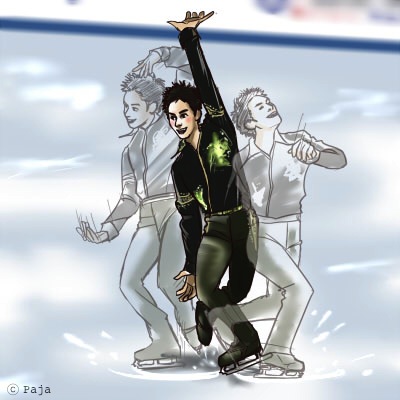 2010-2011SP"Bugle Call Rag" @ Jr.Worlds
JS: Then, back to this season, your tango SP "Fugata", is also choreographed by Kenji, which is ornamented with tango leader's moves - it feels like a couple dancing!, and your own "mie" moves, too. You said "HARDLY Enough!" on your dancing, at DOI(in late June)…
KN: Lately, I have trained under the tango teacher, to learn how to move arms and a neck. I should get improved a little bit. On Fugata, not only skills, but also dancing tango are supposed to be viewed. If I show misapplied arms-neck-back moves, people couldn't recognize it as tango. As I had danced flamenco in 2009-2011 FS, I would like to people to recognize that I had done flamenco last season / have been doing tango this season. The difference between tango and flamenco - the "differentiation" is supposed to be featured. If someone claims "You're dancing flamenco with tango music," I would meet a dead end. So I try to impress tango motives onto the ice.
JS: So you meet with details! (smiles)
KN: (smiles) Tango has so rich history among dancing, that adult dancers have shined on its stage. I was a bit concerned "Could I dance tango, at my age(20)?" I must consider how to present its atmosphere, as a long-term strategy, in order to give the best performance at the main competitions.
JS: So give us Kent's consideration, what's the difference between tango and flamenco?
KN: It's arm moves mostly. I have arm moves of my own, which Kenji corrected "yours are flamenco." You must dance in each right style. And also, you must dance tango with a follower, a lady, whom you must hold sincerely. So you don't execute your own things, don't show your own personality. If you do the same as flamenco, you'll lose your lady, "where is my girl?"
JS: …I can't watch your girl, yet I see the girl dancing tango with Kent!
KN: Thank You!
KN: I guess there are lots of tango programs this season, particularly in Japan. Then you may get bored with them at such as All-Japan. So I have to try to make my tango "one-of-a-kind".
JS: On "Viewpoints", a performing arts method, discovered by a choreographer Mary Overlie in 1970s, there are 2 types of gesture: Expressive / Behavioral. Fugata presents "Expressive", with your "mie" moves as impressionism or abstract moves, that symbolize man's inner feelings, as well as it presents "Behavioral", with tango leader's moves as realism or objective moves, as I see it. So I asked Kenji "Fugata has both sides, inner dancing and outer dancing - Expressive/Behavioral, right?" Kenji told "That's right, but I can't narrate its making story now, it could take 3-4 hours!" He put so much direction on Fugata. Kent, yourself, is the "differentiation" between Expressive and Behavioral, also supposed to be featured?
KN: For me, it isn't, one tango program should be supposed to be performed… but, I wish I could show both sides, when I complete its choreography given to me, to make Fugata differentiated as "Tango by Kento Nakamura". Filling what to be required, and telling "what I am", both of them are supposed.
JS: You do tell "what Kent is", with your "mie" moves! Do you think your "mie" is "what you are", as your signature moves?
KN: So, lately I have practiced in front of the mirror. …Then, do you think man's man is good? (laughs)
JS: (laughs) Why Not! Viva La Mans' Man!
KN: (laughs) Though ladies signature flutter moves are important also for men, I wish I could have both the elegance and the strength.
JS: Kenji continued "Fugata may misapply Kent's good looks," if a man's man can't dance man's moves, it could be miserable.
KN: Yes, he told me so…
JS: "So, train in front of the mirror." Kenji told you. - what's the training with the mirror?
KN: You know, around the rinkside, there are some mirror-like materials, which are able to reflect you.
JS: Dancing in the… spot?
KN: You never can dance on the ice in skating, if you can't do off the ice in standing. You must form your shape of dancing, in concentrating on your feet to skate. - "hunting two hares", on the ice. So, before you come out onto the ice, you must try to hunt one hare off the ice.
JS: …wanna see your "hunting" off the ice with mirror!
KN: (smiles) someday you could see, when the rink is crowded.
JS: wish I could!
JS: …"Misty Mirage", a classic rock album of Curt Boettcher, I didn't know what the title means. But I do know it, since I experienced your Fugata at DOI. In your magnetic field, moments with my ex-boyfriends was flashing, I knew its meaning. You know this quote for tango: "dramas with romance", and yours left me in misty mirage, with bluesy relics. Your tango is cathartic!
KN: FS("Symphony No.3 by Saint-Saens") is Kenji's work, too.
JS: Ah! I missed that question about it to him…
KN: This time, I had listened to various music to pick up for new program, with my coach Yutaka. 3-4 hundred songs!
JS: !!
KN: Classical music was supposed to use, then I rented CDs and bought them. 10+ songs on its list, it was so hard to choose, and this matched. "It matches Kent", some compliments I have received, as well. So, good for me!
KN: The way of skating is the key. It should be beautiful on Symphony No.3. Although Jump elements should be displayed, I would like to set my skating skill and artistry as its cover. - I need such extra "edge". Symphony No.3 also has the edge, it's the masterpiece of Saint-Saens. To skate his masterpiece as my masterpiece, or not to do, that's the question! I wish I would have it for 2 seasons!
JS: Your skating is one of your cover shots, of course, lines of your feet under the knee are in style, it shines Kent so royally. Had you worked on your skating skill in your childhood?
KN: In my childhood, I had been injured, so had to work on it. Yutaka and a former coach Naoki(SHIGEMATSU, who currently teaches Risa SHOJI) have glorious skating with them, to teach me. In their class, you have to practice some footworks in the morning, then you can go run-throughs.
KN: Yutaka has enriched my skating skills, "You seem to be in style, but yours are still respectable," he says, "You must top it, don't limit it, to skate like Patrick CHAN." "Even though you can't skate as he does, still you must train in order to skate like him, in order to skate better than him." "If you get satisfied with yours, you won't satisfy people as a senior skater." So I have worked on it, but that hasn't worked for me so well, yet.
KN: In these days, I have concentrated on how I move, other than what Yutaka has taught. Actually I haven't moved as same as I imagine. I feel such a gap between my real self and my ideal self. "…hardly!" I found, when I watched my performances. So, in session I have tried to look at my weak reflections on the ice, "how is this line?" in order to have a beautiful appearance.
JS: Do you check your skating posture, mainly?
KN: Posture, and so on. checking so much details… Mainly, I have tried to form the required figures as much as possible.
JS: In Feb. I saw you at National Winter Sports Championships, was amazed at your changing body, your core strength got appealing so much, then DOI in June, you got even more larger-sized! to this day, you have quality trapezius-teres major-latissimus dorsi-gluteus maximus muscles, they're outstanding! You have become such a complete man's man, that changing body could cause you problems with jumps, I suppose…
KN: You know, Non-Japanese boys, all are going to become larger-sized, but they have no problem with jumps, so do I. In my opinion, the core strength is the key of strengthening. There's nothing but trainings, as the key for jumping. Hard working helps you in competitions, as well as it makes your ideal jumps. You can't explain how jumping is, but you can show what jumping is with your body. As for last season, I might lose the key, I guess. This season, I have been satisfied with my trainings so far, and "things go well".
JS: You know, changing body is Ladies' enemy, so it's Men's, too? - that was my opinion.
KN: It's on our side - that is my opinion. Some boys can fly in his quad one day, when they complete their strengthening, even after their 20th birthday.
JS: Patrick is one of them! …"Boys, be man's man" - that works on the ice.
KN: Larger-sized body also could help you to appeal, though you must have the way of appealing. …"Boys, be man's man" - neither too much large nor too much small, is in order? (smiles)
JS: (laughs) - that's an order from neither Size L nor Size S, from Size M skater.
JS: Kent, you're a determined performer, look so confident. I recognized that you were kinda Non-Japanese junior skater. Yet you are kinda "Japanese Ultimate" off the ice, who has well-ordered decency in muted color. So you can get kinda crazy in performing on the ice, in a bright way, like "Foucault pendulum".
KN: well… (Kent told with his decency:) People have given to me their compliments "You're caring about others," sometimes, but… I'm not intending to do that.
KN: Basically, I have a lot fun in performing, though I have been a bit upset in the start of programs. There's nothing like it, that you can make such a long, wide performing by yourself. It makes me so happy! When you receive applause for what you have done with your dance on the stage, you find what you have done for a long, hardest time, so you get satisfied with your life.
KN: In galas, I have learned a lot from various skaters, as I have tried to do it "Let's party!" following them. And I expect of myself to have another look at our party. I also consider how I should be there. In competitions, all things should be considered, but I'm going to be upset to handle some expectations.
JS: I have expected you to have a lot fun in competitions, which are not so much held, like a party.
KN: Well… let me think… if you ask "fun or not?" I answer "not fun, so much". (laughs)
JS: (laughs) Oh Well! …if I ask "have you had fun through the competition?"
KN: - I answer "I could have some fun moments," including a party after the competition. I have learned a lot also in competition: I have such an intimate relationship with rivals in competitions; I have been motivated in practices thanks to them; "a magic trick he did," I have been going to rip and surpass♪
JS: …"RIP & SURPASS"! (laughs)
JS: Your coach Yutaka, has he taught you as he has taught us the beauty of Figure Skating so gracefully on his commentary?
KN: With his graces every moment. "You must know it before you're told off, now you are not junior," though you must be grateful that someone gives you preaching. Without violence, he tells me "You must be restrictive to yourself, to correct yourself." "Ask me anything, anytime you need me." - you know, that sounds strict in a different way. You touch his softness, while you sense his hardness.
JS: I do sense Kent is well-dressed man's man on the ice, when I am touched how exquisite the fabrics and details of your costumes are! Are these your mother's works?
KN: My mother's and a dressmaker's. They always dress me to be nice… and, "not to be the same as others!", my mother says. Then, "This musical note feels like this color tone?" - my suggestion mostly gets declined. (smiles) "So you feel like the same as others!" she claims. I'm conservative on fashion…
JS: No, you aren't. I do sense you are well-dressed off the ice, too, as simple and neat you are today! It feels like Kent yourself. …I think clothing should feel like oneself, even though it's "to die for". You don't feel like it, if you are dressed in senior way on junior body, in novice way on junior body, even though you wear a costume on the ice stage. So, you always feel like yourself, as your costume always fits yourself. During your mission("The Mission" 2009-2010SP), already you had been in man's man tone, but still little Kent notes could be tasted, which its costume toned up.
KN: Their works of this season, so well tones me up, so far! …I must tone in them! I appreciate my dressmaker and mother.
JS: In BCR as EX, your costume was styled in changing show by show. Was it your own styling?
KN: Yes, but I took items from its backstage, and my closet. (laughs)
JS: (laughs) - So costless but highly ready made fashion completed at its last stage Medalist On Ice, after All-Japan.
KN: Other casts of shows replied so much to me. (smiles) "What a costume!" (laughs)
JS: ? was it "surprising" for them?
KN: It seemed so, for they never wear half pants on the ice, particularly Japanese. I might dress out of the dress code a little bit.
JS: NO! WAY! You must dance showing your kneecaps on BCR!
KN: (smiles) - that's the important dress code of my own on BCR.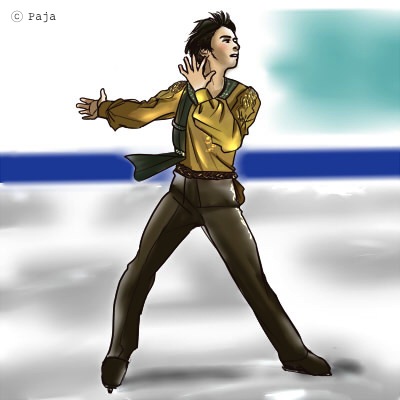 2009-2010SP"The Mission"
JS: So, what means the importance of Figure Skating to you?
KN: It means, that… that you can show what you are at such a stage. Everyone has every taste, so you perform in a different way from other, you dance in a different style even with the same music as others. It really appeals to me. Yet, jumping has much importance for us all, as Men single skaters must appeal with their dynamic jumps, quick&detailed variety of footworks, so fast spins… etc. I hope to show my own "program", packaged all the thing. In front of lots of audiences, such a long, wide program you can make by yourself. That could make people moved, encouraged as well. Not so many sports could make it happen, I guess.
JS: Artistry of Figure Skating can make it happen, that we have Kent in this sport. I guess the combination of the sport & the art could make Figure Skating "one-of-a-kind". So, how about its athleticism? You have fun in forming techniques, you know.
KN: …you know, also you have struggled in doing, (smiles) but, when I succeed to do, I may have fun. However, its athleticism makes me struggled mostly, so mean. (laughs)
JS: (laughs) It's so mean to do, so fun to watch.
KN: When I win some prize, I may be happy with it. It needs one-of-a-kind trainings, so it gives me fun, and happiness, like "Foucault pendulum" …that makes sense? (smiles)
JS: I make that out. (smiles) However, determined sports fans really wanna "make it happen!" that: Figure Skating jumps, I guess. With one-of-a-kind speed, which human can't make by foot off the ice, in one-of-a-kind timing, which is the most exquisite ever in human history, you can fly away to rotate! …that makes sense? We really wish we entered "the portal to Figure Skater's body", like the movie "Being John Malkovich". …Kent, do you like jumps?
KN: …Mmmmm… (smiles) Well… As for jumping, I'm not so good at it. (laughs) When I make some new jumps happen, I'm so happy. When I accelerate myself to competitions, I'm not going to fail, so that gives me fun! …But, to be honest, I don't wanna "make it happen!" so much. (laughs)
JS: (laughs) Thank you, you're talking with us so honestly!
KN: Skating is preferred to me. So long, gentle flow appeals to me, it's kinda carving the ice.
JS: Skating makes it happen that moves can flow, as well. - that's its one-of-a-kind aspect among performing arts. Spins, are also one-of-a-kind moves, which can't happen off the ice. They are so fast rotating to change shapes at the stationary point. Spins look like a kaleidoscope.
KN: I like spins, though, I haven't not so many features.
KN: …What do you want to make with this "what to appeal" question? (laughs)
JS: (laughs) I just want to feel "made it happen!", as if to observe and sense what you do. I wanna make "the portal" this session.
KN: (laughs) So, you like spins, because the harder you train, the more they come out in a right way. - that you like, I bet. I have trained them when I am in terrible form on jumps, to make some new features happen. …Spins are so comfortable among other things. (smiles)
JS: So when you need comfort in trainings, you do spin! (laughs)
JS: …The day before yesterday, I interviewed Yuzuru HANYU. I entered the portal where lots journalists much older than me, had been interviewing each skater. "Go ahead, make my day!" I came in, too much frenzy made me shaky. Then Yuzuru, "just okay," he treated me. He is such a sweet man's man! yet he is just 16.
KN: He is the man' man! …His performance is a good treat for me. He shows me the things I haven't.
JS: Such as flexibility?
KN: No, I mean his "Expressive", inner things. I can't say that in words. …He shows me his self-portrait "Yuzuru Hanyu" in skating.
JS: You mean "what he is". Yuzuru fully opens his soul, to sacrifice himself all in skating.
KN: I have learned a lot from him, as I love his love of Figure Skating.
JS: Now we love to talk about your love of studying. How about handling studying-and-training?
KN: About my love of studying… Around my 8th grade, I found myself going to handle both of them. Until then, I hadn't given so much effort at studying even though I wasn't succeeding in skating. But high school entrance exam I must enter, one meanie said "You can't do anything but skating," I replied "YES! I CAN!", got flashed to start studying. It had been a flop in the beginning, I couldn't fight back my tears, "studying and training - both hares are far away from me." I had been just studying, studying, and studying everyday. I gave 9-10 hours studying in the summer, I remembered those days, studying time was longer than training.
KN: Then in high school years, "never be blew raspberry!" to continue hard working until I passed the exam to enter college. The harder you work, the luckier you get - I found myself pleased with succeeding in studying, to find myself in love with studying. (smiles)
JS: You have fun in such a wonderful world, which you color with your knowledge.
KN: Yes, I had fun with studying, moreover, I had gotten in form in skating, after studying. I made my way in studying, to be getting highly confident "I can make it, handling studying-and-training!" I made it happen well in high school years, in which I had a successful lifestyle. So, I was going to believe "the handling studying-and-training works so well to me."
KN: But, since I entered the University, where I have to compete along with lots of students, to study academic contents, having difficult home works… you know, University provides various classes to appeal to you, but if I take them all, I would meet a dead end in training, that I had made out. After a nightfly with homework at the late night, hardly I could fly from the bed in the next morning, hardly could fly in training, too… I got defeated. Then I found "It can't work so efficiently anymore." Although "handling studying-and-training" sounds appealing, but you can't handle both of them perfectly. That's not my final answer, but my reflection of it, "like a man to double business bound, I stand in pause where I shall first begin, and both neglect." And also, hunting two hares could cause health problems. I have to compete with the skaters who have concentrated on their trainings for competitions from now on, I guess the skaters who have completed themselves would dominate the skaters who have double duty. I had done double duty as 50/50, studying and training - "hardly," some people might claim. So I had a hard time last season. Then, after the first semester (by this summer), I changed my mindset, "It's my only time to dedicate myself to sport in my life, so it's time to give Figure Skating myself all." Still handling studying-and-training, in order to graduate from my college in 4th year, that's my new duty for now. I hope to do my best on "Level1" studying. In my first year, I hoped to do on both "Level4" studying and trainings, so now I'm relieved. "Giving my all to Level4 trainings, doing my best to Level1 studying" is the current style of "handling studying-and-training" of my own!
KN: You know, you can study anytime you want. On skating, I was not able to make a good result when I had given the chance to do… I never miss my chance!
JS: Did you choose Rikkyo University, for your coach Yutaka also teaches at the college skating club?
KN: No, I chose it for my own tailor-made course, by myself. My parents advised nothing, as well. Only thing they told me "you can't be paid for its school fees, if you don't decide it by yourself." They only asked me "So, can you keep going to continue your trainings there?" "You must complete what you decide, by yourself." I have been going on my own course. I read lots of booklets of University. Also, I had another option: the recommendation system. I considered where I could handle studying-and-training, and Rikkyo matched. In my college life, I met good friends, who inspire me a lot, So Good for me! Now I love my days in college.
JS: "To learn the particular things", was also in the options?
KN: YES! Of course it has been on my course, to get to my goal. I considered how to connect the classes with the things to interest, the things to need for my goal. To go where you don't wanna go, that doesn't make sense for me. I had options of the recommendation, but most of them were connected with the fixed department. …If you don't like literature, you're not likely to enroll the department of literature, are you? (smiles) Even though it's much famous University. Even if bachelor would fix your course for life. Of course, you know Rikkyo University is good one, and I appreciate that I have learned so keenly what I want to learn there.
JS: So, Kent, give us a sneak peek from "The course of Kento NAKAMURA".
KN: I'm studying at the department of business management, there, students can make presentation with the companies. Now we had presentations with: company A, B, C,
JS: WOW!
KN: …We had 3 clients, who asked for resolution of particular problem, 90 teams of students consider how to do, and give their presentation in competing, to make final 5 to sit at the table with the company. It's a practical way of learning, works so well. It makes our college "one-of-a-kind", I really love it!
KN: You know, at this moment I have been hunting one big booted hare, so I don't expect any particular thing to do in the future, but I wish I could work for the food business. I wish I could create the things to eat, it could reach people, it could be eaten by people, it could make people happy. I have been so keen on foods, so far. I wish I could be on course to get to my goal. Then, if I would manage my own shop, I must learn business management. And I found Rikkyo's one-of-a-kind course, to go on its course, Why not! - That's how I get here.
JS: …How responsible, YOU ARE!
KN: (laughs) I merely say it in words.
JS: Now I expect "Kent's" restaurant… Here, in this shop(cafe/bistro), they should hate us, since we have been here for a long time with a cup of coffee.
KN: Indeed!
JS: I was growing up at my family shop, so I'm going to check other shops "how many people work, how much it costs to sell here, so, how about average spending per customer?"
KN: uh-huh… You know it's the key of kinda cafe that: "rotation".
JS: !! (laughs) A Figure Skater did say "rotation" in another, business meaning!
KN: (laughs) I do use "rotation" in my class, too. If we were in a highly Italian restaurant, we could be welcome, to stay long. There are many ways to sell, and there is each way to consider how to manage.
JS: …(laughs) No one has expected your business persona hiding under the programs on the ice!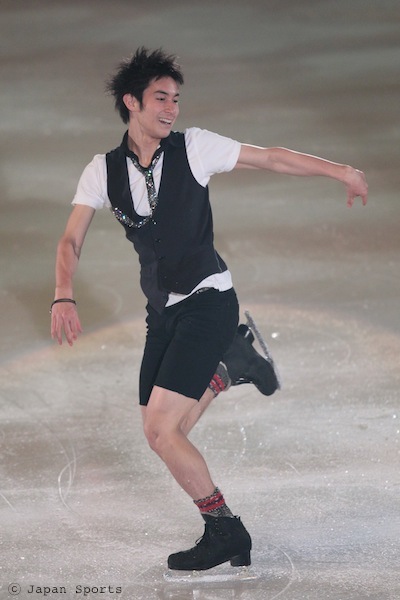 2010-2011EX"Bugle Call Rag" @ Medalist On Ice
JS: And some people expect our traditional question: The most bizarre gift thrown onto the ice?
KN: "bizarre" gift!? (laughs)
JS: (laughs) The gift You need to consider "how to manage".
KN: In international competitions, people threw funny things, such as rugby balls. I was given a pair of tremendously-big sun glasses, which you can never wear, "let me think… So, what do you want me to do with this?" (laughs) Other skaters received it, too. And… "bizarre" things… so difficult to reply…
JS: The other option: the "arts&crafts" gift you felt "how exquisite"?
KN: "A rose in blue"! The girl skaters there, "What a beautiful thing!" they took its picture. It's in the black box, silver glitters on it, it has been displayed at the entrance in my house. SO beautiful!
JS: Is it artificial flower or something?
KN: I don't know about it. I don't touch it because it's so beautiful! And, a monkey wearing "The Mission" costume, my pictures, and… seal goods, I love seals so far.
JS: - You only have so nice things, haven't received bizarre one yet, so far. …Ah! "the ice cream in the morning", which I brought you last time, is the most "bizarre"?
KN: (laughs) …was shocked. (smiles)
JS: (smiles) "If you are an athlete, you should eat the dessert in the morning," was told… So do people on the ice, I thought.
KN: I really love the ice cream, as I need one cup per day, yet you eat it in the morning, you would have a stomachache. (smiles)
JS: So, The Most Bizarre Gift to Kent goes to: "the ice cream in the morning"!
KN: (laughs) so avant-garde.
JS: (laughs)
KN: …Hey, you made it happen! You won "The Most Bizarre Gift" prize!
JS: YES! I did!! I won "ISU the most bizarre GPS Kent Trophy"! got 15 points!
JS: …let me think… So, what do you want me to do with that? I never wanna go to its Final! (laughs)
JS: And it's final, a farewell moment. Please leave a message for us.
☞ Kento Nakamura @ Meiji Jingu Gaien on September 4, 2011
KN: Hi there! I'm Kento NAKAMURA on Japan Skates. Always I am supported by fans, no matter what I have done, I really appreciate that. Thank you so much. This season, it's my very first senior season. I would like to make progress from junior years, to show in such a new style, "What I am". In order to do that, I have trained every day. So, please keep in touch with me. It's my pleasure. I have planned a quad in FS this season.
JS: !!!
KN: …so, please push me up on 4T! (laughs) I'm sorry that I hadn't made my way last season… Those hard days, fans, you had encouraged me anytime. I owe you, to make you satisfied and happy, in style, as much as possible this 1st senior season. And after the disaster, I have to give it my all to encourage people, on every competition. I wish you a good season with me!
JS: …"QUAD"!?
JS: …
KN: (laughs)
JS: At DOI(in late June), you did say "I have merely rotated quad…" You have made it in just 2 months!?
KN: I landed. Now I know I can make a quad. Please cheer me up!
JS: oh my… Why Not!
KN: (laughs)
- All-Japan National Championships(Dec. 23-25), Kent is going to face Japanese Men quad jumpers: Daisuke(TAKAHASHI), Nobu(ODA), Taka(KOZUKA), Yuzuru, Takahito(MURA), Tatsuki(MACHIDA), Daisuke(MURAKAMI), who were in higher place than Kent(8th) last year. This season he has made a flawless SP, 2 3As in FS, to turn the tables in Christmas!
☞ Becoming more beautiful, much stronger - Kent is on course! October 7, 2012 @ Finlandia Trophy(in Japanese)