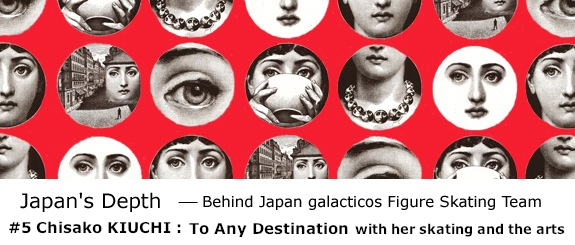 Our Japanese correspondent Aiko interviewed Chisako KIUCHI @ Meiji Jingu Gaien.
thanks to: Japan Sports for photos, and Paja for illustrations.
By AIKO SHIMAZU 島津愛子
July 14, 2012 in Tokyo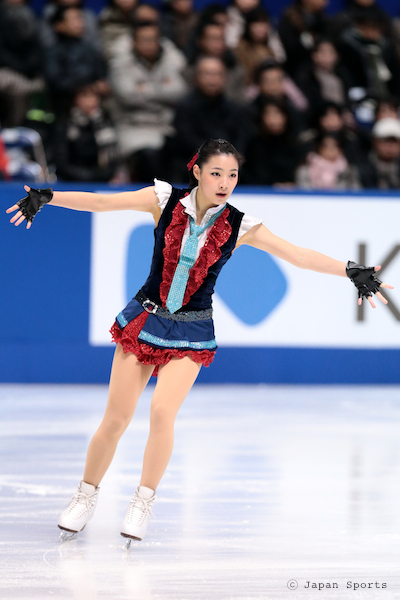 FS"Bebop Jazz Medley" @ All-Japan 2011
A 19 years old girl has a prism with her life, which is going into multi-colored, as she has her first name meaning "full colors" - "Chisako" KIUCHI, she is a competitive both Single and Synchronized figure skater, who loves both fine arts and figure skating.
Last season(2011-12) she finished in 3rd place of Senior Ladies at Tokyo Regionals, to compete in her very first All-Japan Nationals, then her versatile light suddenly changed. After the Nationals, she integrated into the World Champions Synchronized Swedish team "Surprise".
Japan Skates could capture her changing lights during her temporary return in July.
Chisako introduces herself:

☞ Chisako KIUCHI Message @ Meiji Jingu Gaien on July 14, 2012
+++ translation +++
"Hello everyone," I'd better say "Nice to meet you," to most of you. I'm Chisako Kiuchi. Now I'm in Sweden, have trained Single and Synchronized skating. I think most people are so familiar with Single skating, particularly in Japan. But Synchronized skating, it's a minor sport, not so many skaters have trained it. So, I hope you have some interests in Synchronized skating, reading this interview. And also, I hope I can compete in next Worlds as "Surprise(Swedish team)" member, working so hard. If I could show you my performances, that will make me so happy. Please stay in touch with me.
JS: I got my first "surprise" of the year 2012, around new year holiday, your coach Minoru SANO, he kindly replied to me "Chisako left for Sweden." when I sent your interview request. A surprise e-mail from Minoru! (smiles)
CK: (smiles)
JS: You're going to stay in Sweden for 3 years, how did you make your study abroad? Had you planned to "hit the road" for a long time, before All-Japan?
CK: No, I hadn't, just like… suddenly I got a chance.
CK: I had planned to study at Art College, after graduation from high school (2011-12 season), as I had both trainings: Synchronized and Single skating, as well as I had studied at prep school for that,
JS: Triple work!
CK: (laughs) then, one day I got an offer, that I could integrate into the "Surprise". - it was a surprise for me, which needed so much consideration, as I had worked on Fine Arts for a long time, in order to go to Art College. I had to stand at the crossroad: turning to Sweden, or going this way to the Arts. While, I had gotten so much "surprise" with "Surprise" performances at 2011 Synchronized Worlds, since I competed there as Japanese team("Jingu Ice Messengers").
JS: What kind of surprise have they given?
CK: - "surprise" as you've never seen it before, you know. No team gives their acts like "Surprise", as "Surprise" flips its formation 2 rows to 3 rows in the blink of an eye. With their quickness of changing formation; acrobatic lifts; pairs elements, they have surprised - as their name "Surprise", they have showed one-of-a-kind big elements, to be shown by no other team but "Surprise". And they have brought something new "surprise" every season. When I experienced their surprise for the first time, I got really inspired, "There is the exceptional performance on Synchronized skating!" Since then, "Surprise" has been my idle team, so I never wanted to miss the chance.
CK: Finally, I made its decision, because "I love skating!" and "I want to do what I can give now!" - You can dedicate yourself to the sports, only when you're young.
JS: Yes We Can!
CK: So can I, "I'm going to catch the chance, ride a wave."
JS: Then you're also riding as a single skater there, in Sweden.
CK: You know, mainly I have trained synchronized skating, to do there this study abroad, but my coach in Sweden has recommended me "Try Single," so I have gotten single sessions there, at this moment.
JS: HELGESSONs(Viktoria and Joshi) are giving heart to Swedish Single Ladies.
CK: Also, they're giving gala performances with "Surprise"!
JS: Also, Swedish Single Men is a competitive squad. So, is Figure Skating popular in Sweden?
CK: Figure Skating itself is so popular, and I guess Synchronized skating is its heart with pride. At Synchronized Worlds, "Surprise" supporters are coming together. As it's in a much different mood from non-Sync Worlds, in the same mood as football(soccer) games, people are in costumes, with whistle, enjoying their cheering, so lively.
JS: - along with music and dancing. Like a party!
CK: - I enjoy to skate like in a party! Cheering, that is one of features of Synchronized skating. People are giving gleeful cheers to the elements, that's a great atmosphere!
JS: And you also in great atmosphere, living in Sweden?
CK: There is atmosphere, mostly woods, so beautiful nature. The air is clean, as well. I'm in a homestay, going to language school.
JS: Now you have stayed there for 6 months. I guess, you're going to get lonely? (smiles)
CK: (smiles) Not so much. The host is my teammate family, they have treated me so generously, not to get lonely, not to have troubles. I'm staying calm there, thanks to them. Now I'm going to get in touch with them in Swedish.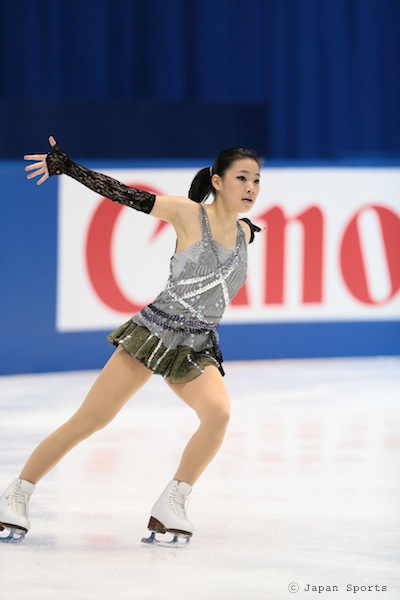 SP"Sabre Dance" @ All-Japan 2011
JS: Last season at Tokyo Regionals, I got a "surprise", that was you, Chisako, your SP"Sabre Dance", that I recommended our readers to add to must-watch programs of All-Japan Nationals: PasoDoble-like her "Sabre Dance", a Vanessa Mae's Pop-Classical tune, which is the exceptional work from Nanami ABE(Yuzuru HANYU's former coach). Without any frilled move, Nanami's choreography shows coolness through a slit in every single move, dramatically. Her choreography for boys are manly, for girls, even more handsome. Chisako, was dancing her choreography as if Hip-Hop dancers use their ribs to sharpen their moves, as if Contemporary dancers fully stretch their arms and legs to magnify their forms. In the last superb quick SlSt, she used her neck to turn to leave her face …on every single turn! Her dancing was something else there. - with such enthusiasm! I wrote it.
CK: (laughs) Thank you.
JS: You quoted "it's a 'sabre dance', but it tastes like 'dancing as a sabre' - such as strength, sharpness, tightness, got impressed onto it." after SP at All-Japan. Nanami makes a difference!
CK: with such boldness!
JS: And you continued that your programs were made of Nanami's inspiration, then you were going to collaborate on choreography. How did you choose the music?
CK: Nanami brought the SP song, and I took the last part of FS song "Guns and Roses", "I wanna skate to this!" Nanami filled it to the brim with the first 2 songs, "King of Swing" / "Minnie the Moocher".
JS: Now let's talking about little Chisako, how did she get started to skate?
CK: As for Single, …in my childhood, I was short, exceptionally, as I'm short,
JS: What!?
CK: (smiles) I am short,
JS: !? How tall?
CK: Was 130cm(4.26 feet) at age 13, now(19) 154cm(5.05 feet).
JS: …
CK: (laughs)
JS: …Can't Believe! You seemed so tall!! at Tokyo Regionals!
CK: (laughs) As I was striving on dancing, to look so. I was so short, less dynamic than other girls, that concerned, annoyed me, I had a complex about it in my childhood, "I can never appeal like other skaters."
JS: …No Way! You wore the dynamism, which appealed brashly, as you seemed so tall, about 170cm(5.58 feet) tall!
CK: (laughs) really complained about my height "No Way!", then I wore colorful gloves to "look bigger!" as well as I had striven on "how to look dynamic" with dancing, in the elementary school years.
JS: So it worked! …really surprised to hear you're 154cm tall, as I thought you were taller than 165cm(5.41 feet). Last summer at "Jingu(Meiji Jingu Gaien skating rink)", I saw you Chisako, training with Takuya(☞ Takuya KONDOH - A Funky monk of the Sports and the Arts) and his and your coach Minoru, "What a solid, impressive tall girl!" you caught my eyes.
CK: (smiles) I'm never tall.
JS: Yet, you're a looking tall girl with long arms and legs…
CK: Even in trainings, I'm trying to make my arms and legs "look longer!" (smiles)
JS: So, tell us about "look bigger" tips.
CK: It's not like tips, but I have kept turning it over in my mind: moving my shoulder blades, in order not to look using only arms; making intensity with whole body from fingers to toes; fingers and head expression,
JS: Your movable head has so much expression surprisingly!
CK: (laughs) - trying to look so, working so hard.
CK: And also, I have been working on my costumes.
JS: !? designed by Chisako KIUCHI?
CK: Indeed.
JS: …Fantastic, indeed!
CK: Accented arms with gloves, or something nifty gadget I like thinking of, to design costumes making myself "look bigger, a little more".
JS: I like the tiny little girl thinking about how to look bigger, - so much adorable!
CK: (laughs) Thank you.
JS: …Now I found the way back to get started with little Chisako, (smiles)
CK: (smiles) I was short, and my mother was looking for, "which sport can short kids get competitive at?" - Rhythmic Gymnastics or Figure Skating, and she picked Figure Skating, as there was a rink near my home. Since then, I was going to let me fall into skating.
JS: As for Synchronized skating, how did you do?
CK: Synchronized teams have "Juvenile" classes, for under-6 to under-8 kids, but I got started so lately.
JS: !?
CK: since 2010-11 season.
JS: What!? Just 2 seasons you have!?
CK: (smiles) Yeah, just 2 seasons ago, my friend of "Jingu Ice Messengers" invited me. You know, my home rink in Japan has been "Jingu", so I have been familiar with them, so interested with them, watching their performances at "Jingu" galas. "interesting," such good vibes I had, then I was invited. "So, Try it." And the experience made sense, "It has different features from Single. I could have fun!" "So I'm going to train for one season," - to the present.
JS: To Sweden!?
CK: (laughs)
JS: …Your destiny takes you to any destination!
CK: (laughs) even took me abroad, that was never supposed. It has surprised me! (laughs)
JS: And I suppose Synchronized skating let you ride a wave, with interesting "different features from Single". What features does it have?
CK: I guess, there are 2 types features, features for crowds / features for skaters.
CK: Features for crowds - Synchronized skating requires: skating on a deeper edge, quality footworks, such "Ice Dance" skills; such as dynamic lifts - "Pairs" skills; and "Single" skills, solo dancing and performing. That's "all-in-one Figure Skating", to be synchronized by 16 skaters. Such "dynamism" it has as well.
CK: Plus, changing formation to create shapes, such "sculpting" is Synchronized-exclusive, and its my favorite feature.
CK: Moreover, you can see that clearly when you watch Sync-Worlds, there are characters, each team has its own persona, like, has its "theme color". As I see it, "pastel color" I sense - of the gentle team, as if it came from fantasy, and "dark color" - of the dynamic team to rock you, and "transparent color" - of the graceful, magnificent team to show its definition. Such "characters" appeals to me.
JS: …Your commentary appeals to crowds, definitely! We're gonna go to next Sync-Worlds(2013 in April, Boston USA)!
CK: (laughs) If you find your favorite colors of the teams, you'll enjoy Synchronized skating more and more.
JS: So, features for skaters, …as I see it, it's so difficult to perform Synchronized skating, such as changing formation, can you see whole image to team-dance? you know, on the much spacious Figure Skating stage.
CK: Mostly, we can, but some parts are missing, to fix with replays so carefully, "how does it look from the outside?" "it should look a precise circle, if each member gets set at each particular position." You need so much thinking in performing Synchronized skating.
JS: When I had performed team Hip-Hop dance from outside of the ice - you're in a so tight formation, that I had whole image of the team, dancing my heart out, much thinking of "team-self and myself" something like that,
CK: I'm thinking of it so much, too, and I think that's a feature for skaters, too. If you're in the team, not as a solo effort, each one should be of importance with each own skill, as I see it.
- that each one should understand, then we motivate each other, to seek one image, to create one program. "coming together to one goal" - I guess this feature is team-exclusive, which Synchronized skating appeals so much.
JS: …Again, your commentary appeals to us, definitely! Girls are gonna come together, to become a Synchronized skater!
CK: (laughs) Thank you.
JS: Great 2 types features you demonstrated.
JS: Thus, Chisako was going to Single and Synchronized skating class, high school, prep art school. How had you managed your… "prolific" season? (smiles)
CK: (smiles) On the most prolific day, I went to school in the morning, and attended prep school class, finished it earlier to be back on the ice, Synchronized class, Single class were done. …You must make switches!
JS: (smiles) Even 24 -like switching Chisako show!
JS: Where did your way to the Arts start?
CK: from my childhood, I really love Fine Arts. Since the kindergarten years, I loved to draw or sculpt something.
CK: I got started to go prep school when I was in sophomore year. I was considering "will my heart go on the way to the Arts?", I could attend "demo" course at that time. "So, Try it," I entered the door, and the teachers and students inspired me, gave me new heart "go on this way, to Art College!" I got motivated more and more, to work harder.
JS: What Fine Arts are taken to your heart?
CK: I love sculpture, prefer sculpting to drawing or painting…
JS: You make sense! Dancing is 3D, too!
CK: (laughs) - these could be connected. I love clay arts, architecture, sculpture.
JS: There are characters, on sculptures, as well: impressionism/abstract of Giacometti, Botero, such as; realism/objective of Rodin, or Renaissance masters etc.; soul crying one like Camille Claudel, and so on, what character appeals to you?
CK: Actually, prefer abstract one.
JS: When you make an abstract sculpture of clay, it could be a polar opposite of dancing,
CK: uh-huh, you make sense.
JS: I love sculptures, too, and, when I had danced Hip-Hop in the team, I could have imaginary "whole dance" of the team, but hadn't imagination "look myself from the outside", like "Puppeteer operates one's body as one's puppet." So Chisako, how have you trained in order to look yourself on bird's-eye view, to sculpt your dancing?
CK: Dancing in front of the mirror, such practices are needed. That is important, actually that could help me to do it, mostly.
CK: But if you are dancing, you never get imagination "how the way looks from the outside". So you dance in front of your reflection on the mirror, to know "how the move looks from the outside", - copying and pasting it on your mind over and over, finally you can impress its image onto your mind, "The move could look like this way."
JS: Not to place dancing imagination but to create image with dancing!
JS: So, you also had trained Hip-Hop, - I did bet that, indeed!
CK: (smiles) Yes, I had done in the elementary years, as well as Jazz Dance, Ballet.
JS: You had attended both dancing and skating classes.
CK: …I really disliked Ballet lessons! (smiles)
JS: (smiles) IT'S A REPEAT! to do the same things.
CK: - things at the barre. "…it makes me fallen asleep." (laughs) "But I must do that!" So, things of Hip-Hop appealed to me more.
JS: So, your dancing appeals and makes a difference, since you had experienced various kind of dancing, you have made yourself "look bigger", and you have defined your own "sculpting".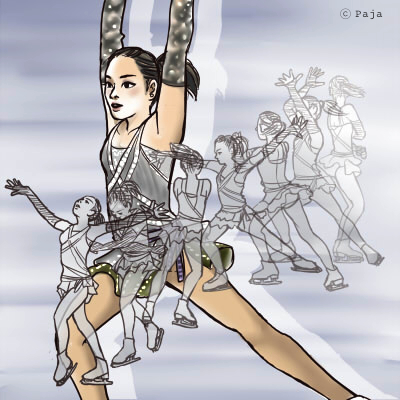 SP"Sabre Dance"
JS: And you also like Hip-Hop music? as you have listened to international music since childhood.
CK: Basically, I like listening to music when I get relaxed, rather than get motivated, as mostly mellow music were preferred to play, rather than Hip-Hop. Such as R&B.
JS: …Even, such a tiny little girl chillin' with R&B songs! I like it!
CK: (smiles)
JS: Do you have any favorite program of other skaters? …You know, "Surprise" programs are must-have!
CK: (smiles) As for Synchronized, you know. And picking from the Single list, it's recently performed, Yuzuru(HANYU)'s "Romeo and Juliet(2011-12FS)",
JS: Definitely!
CK: (smiles) It would be so nice if I could dance such a program.
JS: - which is also Nanami's choreography.
CK: Yes, she impressed fragile mood onto majesty - froth on the daydream, flash of the lifetime,
JS: Extremely!
CK: (laughs)
JS: It's added into the middle, slow part, so real Romeo is there, I see Juliet absorbing into Romeo.
CK: That made me much inspired! "So Nice!"
JS: I guess so nice encounter happened to you and Nanami's choreography.
CK: It happened in Jingu, when I had trained with Rumi SUIZU. Her programs were choreographed by Nanami. I didn't know its choreographer, but "Her choreography is so cool!" I had taken it to my heart. So I "want the same choreographer's," asked Rumi, "Who made yours?" when I made new programs. "Nanami," named Rumi, then I asked Nanami to choreograph, in person, she said "Yes."
JS: Into the program her taste is brewed, recognized at once "It's Nanami's work!", as she features Pop/Rock arranged Classical music. And also, she makes every single move have meaning.
CK: It's the very essence.
JS: yet unlike, too simple contemporary pieces.
CK: uh-huh, she fantastically seasons the moves with each skater's taste, to match their image, atmospherics, that always makes sense.
JS: …I saw Nanami, in person, @ Cup of China last season, I got frozen! as if I was changed into stone by Medusa, because of her grandeur! I couldn't ask her to interview…
CK: (smiles) Yet, she's so sweet, as well.
(Nanami's other must-have works: Akiko SUZUKI 2006-2008SP"Firedance", Kento NAKAMURA 2010-2011FS"Malaguena")
JS: Your coach Minoru has trained you for 7 seasons. Chisako has so fast skating, great dancing, you're not tall but looking tall - as same as Takuya, your "big brother" student of Minoru. So I imagine Minoru has cast a spell on both of you.
CK: Both Takuya and me could be cast as DIY-minded, as we examine, try, do it ourselves, thanks to Minoru, I guess he has helped us to do so.
JS: Takuya's last interview, he cast Minoru as "a funny man", (smiles) as he's giving humorous commentary on TV, but Minoru "gives me precise tips, both technically and mentally he takes care of me, so neatly." proudly noted Takuya.
CK: When I perform, Minoru gives me such cheers: "GO AHEAD!" "GIVE YOUR ALL!" (smiles) yet he has given me such finely detailed advice.
(Minoru SANO: a Men Single bronze medalist of 1977 Tokyo Worlds, 5 times National Champion in a row, former students including: Shizuka ARAKAWA, Yamato TAMURA.)
JS: You qualified for your very first All-Japan Nationals, had finished in 3rd at Tokyo Regionals, where you were placed 3rd after SP!
CK: …?
JS: (smiles) Yes you were!
CK: (laughs) Maybe I was, as I don't care about SP placement so much. Unless I recognize that SP placement means FS group, I'm going to be frozen! with nerves, "even I have only 3 jumps to attend." So I was not good at SP.
JS: You did make all 3 jumps!
CK: Yes, actually I made all jumps in SP at Regionals,Sectionals,and All-Japan. That surprised me! (laughs)
JS: So, last season was your harvest one, like "That's it!"
CK: uh-huh, I hadn't reaped good result, suffering from injury sometimes, so I guess I could do what I could give last season.
JS: Even you could do, as triple work! w/Synchronized and prep school.
CK: (laughs) a challenging, spirited season.
JS: Then you qualified for All-Japan FS, with successful SP.
CK: Its first skater was me. (smiles)
JS: You opened All-Japan Ladies FS event, with your pop Jazz Dance skated to your favorite music.
JS: I was working on All-Japan report, receiving "quick quote" audio files from its mixed zone, so I got your file the first, "Chisako's has come!!!"
CK: (laughs)
JS: (laughs) so excited to listen to Chisako, you said "I hoped to provide the atmosphere," "To fire All-Japan's enthusiasm" that was your mission in FS, - I was fired, almost crying!
CK: (laughs)
JS: "There's nothing like this quote!" by such an entertainer's entertainer!
CK: (smiles) …hoped to make it happen there.
JS: well, your challenging spirited season was also, unforgettable.
CK: (nods)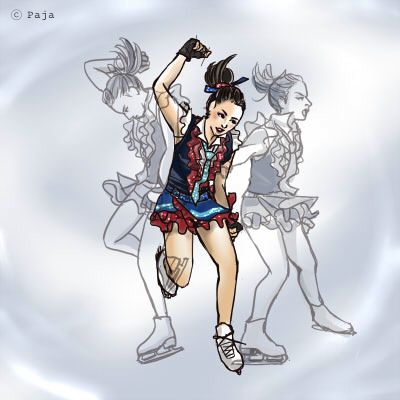 FS"Bebop Jazz Medley"
JS: Now let's talk about this season, have you planned to compete in All-Japan?
CK: You know, in Sweden, being "Surprise", I have changed skating federation, to Sweden, so I can't compete in Japanese National competitions.
JS: uh-huh…
CK: being "Single" skater, I'm likely to attend Swedish competitions,
JS: What an option! Vice Versa!
CK: (laughs) My Synchronized coach has also recommended "Try Single competition, soon!", thankfully.
JS: ASAP!
JS: And what have you planned about new programs?
CK: Nanami is so busy currently, that we're not likely to make new one this time(her temporary return), but I want to perform like, - it's kind of an image changer. I have been caring for "flowing skate" to show. I hadn't worked on it so much before, but I have worked on it for Synchronized skating, "Work Harder!"
JS: on, such as Ice Dance skating?
CK: uh-huh, something like that. As my previous programs are fast tempo music, I want to skate to fluent slow note, even the part of song, to show my effort on Synchronized skating, flowing skate. I hope to dance featuring such music, and also, wanna dance Tango, as well.
JS: wanna see your Tango! I bet you feel like Tango!
CK: (smiles)
JS: Going your surprising way forward, training Synchronized and Single skating, what is your next goal?
CK: I, myself can't imagine what's coming next, (laughs)
JS: (laughs)
CK: as I couldn't imagine I have left Japan…
CK: As a Single skater, "wanna compete in Swedish competitions," of course, and as a Synchronized skater, "hope to be acceptable to my team", I'm so much motivated. I would like to play a part, in a circle which figures team spirit, to show a highly team effort on the ice.
JS: What do you expect of yourself, Chisako - 3 years later?
CK: What I'm expecting now, on Synchronized skating, you know, in Japan it's not popular, familiar, so people are not likely to do it. When I come back to Japan, bringing international experience of Synchronized skating, I hope to contribute to Japan's Synchronized skating, as much as possible.
I hope much more people get to know about it, somehow…
JS: That will happen!
CK: (smiles) - the things make it happen I'm going to get involved with, "To fire its enthusiasm".
JS: with coaching?
CK: I'm not sure, at all. (smiles)
JS: (smiles) You're not sure what will happen 3 years later!
CK: So, I'm not sure, but I hope to play a part in Japan's Synchronized skating, with such experience that I got a chance, made study abroad. If I reap a harvest, I will be so happy.
JS: Have you made a "To Do" list for 3 years? like "To Do this! - checked, To Do that! -checked"
CK: (laughs) It could be not a primary list, a little bit. You know "Surprise" is cast in a lot of shows, where I can give solo performances in its introduction, such as jumps, spins, as I'm the only Single skater among "Surprise" members. So I hope "To Make it more worth", that I have trained both Synchronized and Single skating, "To Do it as Synchronized/Single skater". "To Create chemistry between Synchronized works and Single works, To Improve both works". I hope so.
JS: That happened last season!
CK: Maybe. (smiles)
JS: So, going and going your way far forward, the way to the Arts could run?
CK: (smiles) - that I imagine! You know, Scandinavian flair is giving heart, as its design is popular, so I expect to go to Art school there, even though it would be a snatch of learning. My coach has recommended that, too. I have gotten various inspirations, to absorb into myself. Such a chance I'm given.
JS: "Just 2 seasons", I have as a Figure Skating reporter, I'm getting to know "How struggling Figure Skating trainings are!" in Japan. There are not so many rinks, and also, there are surprising practice schedules, "6 AM today, 11 PM tomorrow",
CK: So hard circumstance to train it.
JS: But, Chisako, you continue to dedicate to it, suffering from your low back pain or fracture in competition. I imagine that Figure Skating has reason to dedicate yourself.
CK: "reason to dedicate"…
JS: It was my own reason to dedicate, to Track & Field trainings: in the beginning, I "love"d to do it, or good at doing it, then I loved to "define" mind-body-spirit-technique,
CK: uh-huh.
JS: Going on that way, I was getting really determined to "Do run! even in the rain or on the snow," and even though I was in bad shape, suffering from pain, "NEVER be defeated!" to do it. Somehow, "dedication" itself was going to figure a fundamental reason to me! (laughs)
CK: (laughs)
JS: I had kept going and going forward, one day, in running my both Achilles tendon suddenly screamed, "cracked! cracked!" to knock me down,
CK: "cracked! cracked!" (laughs)
JS: (laughs) sounded as if I were a Terminator ! …Then my body got demolished, "…I won't be back," wasn't able to dedicate anymore, I found myself "happy" to be able to dedicate.
CK: (nods)
JS: Now I feel I was growing beside the sport,
CK: I feel that too, so much! It has been built in my life.
JS: Indeed! sometimes you were likely to quit, Chisako,
CK: when I got injured,
JS: YET you were "NEVER Defeated!", to continue it.
CK: (smiles)
JS: So, I would like to ask for your appealing commentary again, on your "reason to dedicate", to dedicate to this interview's finale! (smiles)
CK: Oh, well! (laughs)
CK: …One of reasons is, I can never imagine myself without skating, my life without skating, as mentioned, "Figure Skating has been built in my life." In addition, "I love skating!" it's fundamental, that gives me rapture, when I "achieve something".
You may not achieve the things, despite your effort, however, you could find "that made it happen," when you achieve other thing. You may not feel any "achievement", that happens, yet, every single effort finally could make it happen, some "achievement". So you could reap a harvest.
JS: Experience could open your eyes.
JS: …I had been running the same course, at the same time. One day, the same passing uncle talked to me, in warming up. "Everyday I see you, girl, running so fast! Do you know that?" (laughs)
CK: (laughs)
JS: Then I knew that "someone likes this," that gave me rapture! I guess such rapture could achieve yours, Figure Skater's rapture.
CK: You know, Figure Skating is the sport, which is performing art as well. You think how you inspire people, to leave emotions on their hearts. I guess that is the feature of Figure Skating, it's outstanding among the sports, and I feel it's my favorite feature. I love to seek and create emotions. Figure Skating is not going to wrap it up with only skating,
JS: It completes with performing art!
CK: (smiles) So I have enjoyed dancing on the ice, radiating for crowds, thinking how it looks from people.
JS: …It completed with your radiant commentary!!!
CK: (laughs) Did it?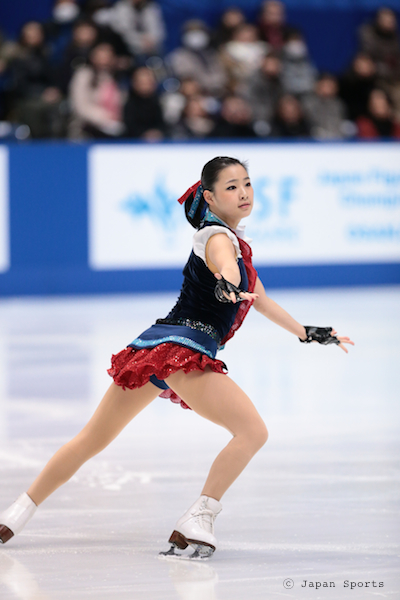 FS"Bebop Jazz Medley" @ All-Japan 2011
+++ Chisako KIUCHI @ Tokyo Regional +++

☞ SP"Sabre Dance"
You'll see "dancing as a sabre" Chisako, her last dance-sequence is must-watch! as well as her definitive 2nd position of Ballet - she won it defeating sleepiness of barre lessons - "eagle" entry-2A, and her coach Minoru in the beginning, of course!
☞ FS"Bebop Jazz Medley"
Confidently, Stylishly, Energetically - Chisako shows 3 types amusing "Bebop" moods, skating to 3 songs. Her Hip-Hop tasted moves achieve rapture in the last spurt with her favorite "Guns and Roses", Bebop in the present tense, on such a tough, fast, last part. Catch Chisako, glowing with full-color, "making switch" with her fist (that Paja captures).
☞ #WhyNotSynchro2022 | interviews with Miwa OGITA Chisako KIUCHI June, 2015 in Japanese
☞ Chisako KIUCHI [Synchronized skaters - they're united, entertaining, and competing] June, 2014