Synchronized skaters - they're united, entertaining, and competing
Pigeon Post interviewed Chisako KIUCHI of Team Surprise 木内千彩子選手 @ Meiji Jingu Gaien 明治神宮外苑.
thanks to: TEAM SURPRISE for photos, PAJA for illustrations
by AIKO SHIMAZU 島津愛子
June 24, 2014 in Tokyo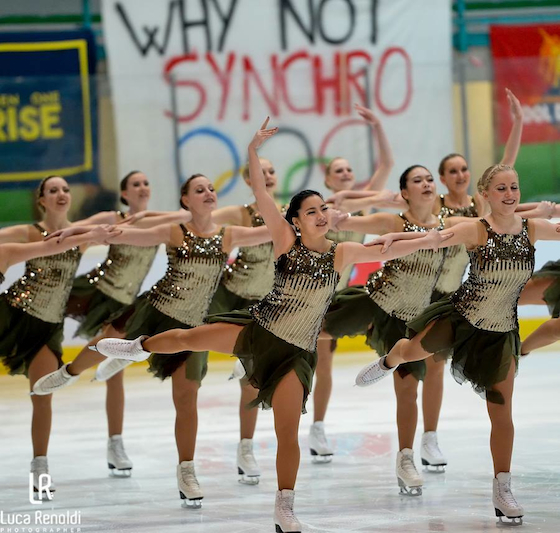 "Synchronized teams don't do different things from other teams - we have different goals and priorities, different colors of Synchronized skating. I hope the colors fascinate you even more, then expect your favorite one", says a Japanese skater Chisako KIUCHI from Swedish Team Surprise.
Their athleticism and artistry, their techniques and pride are unpaid through their striving and sacrificing, but now it's time for them to be an "Olympian" as same as other elite athletes, to show all that Synchronized skating to the world.
As 15k+ marked [Make Synchronized Figure Skating an Olympic Event #WhyNotSynchro2018] petition has appealed to IOC, here is fascination to get you started with Synchronized skating, that Chisako KIUCHI (CK) told us Pigeon Post (PP).
☞ P1
► Things to Must-Know about Synchronized Figure Skating
► Elements
► Duty
► Think Different (from Single skating)
☞ Next Page (P2)
► Team Surprise and Synchronized skaters, the phenomenon
► updates on Chisako KIUCHI
► Go for Olympics
► Chisako's video message

PP: First of all, I'd like to give the hearts and minds of Synchronized skating presto! for people who are unfamiliar with Synchronized skating, then asked Chisako to bring such "surprise" to us, which is "the best ever Synchronized program".
CK: I had thought a lot… and finally I picked ☞ Team Surprise 2010-11FS theme "Circus" [Spring Cup Official] The program I had watched Team Surprise for the first time at 2011 Worlds, it was so impressive that I took this team to my heart. (As a member of Japanese Team "Ice Messengers Grace", Single-Synchronized skater Chisako competed in her first Synchronized Worlds, her very 1st synchronized season.)
Surprise executed it for the first time - the lifted skater raised both arms.
PP: Had the lifted skater gripped hands of lifting skaters until then?
CK: Yes, Team Surprise did it for the first time, so that was big news.
PP: Such pioneering Surprise has the most advanced program, 2013-14FS theme "Super Heroes" showed superb fast configuration, woman-and-woman rotational swinging lift, "Group Lift(team lift)" with back flip(Chisako flies!). Super Heroes captured techniques and pride of Synchronized ladies, you'll see them before your very eyes.
☞ watch "This is Team Surprise" [Official]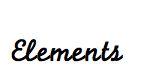 PP: Synchronized skating elements include Single elements: jumps; spins; Step Sequence(No Hold Element - NHE); free skating moves(fm) "in sync", as well as Pairs and the unique elements of Synchronized: such as [Block (B)] [Line (L)] [Intersection (I)] [Wheel (Wh)] [Circle (C)] [Group Lift (GL)]. Chisako, please explain these elements, which are "required" these day. (Both Synchronized SP/FS has required elements.)
CK: [Block] skating lined up in at least three parallel lines,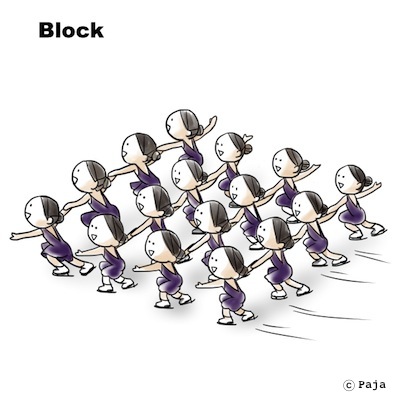 CK: [Line] lined up in one or two,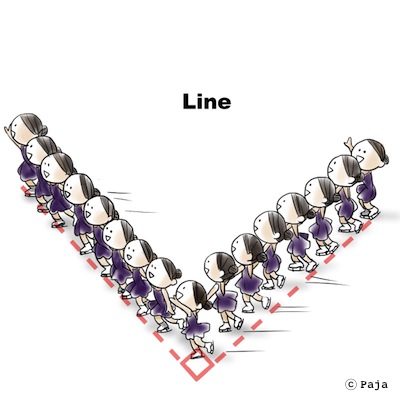 CK: [Intersection] skating towards each other and intersecting,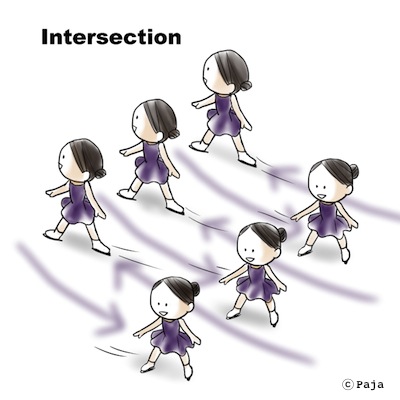 CK: [Wheel] rotating like a wheel,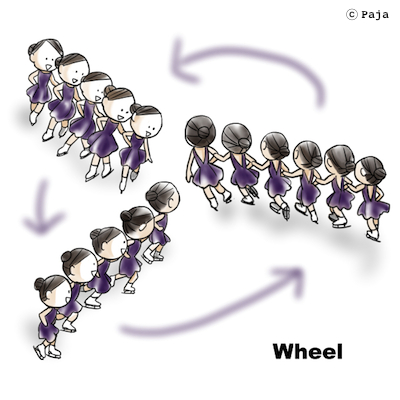 CK: [Circle] forming a moving circle, in general.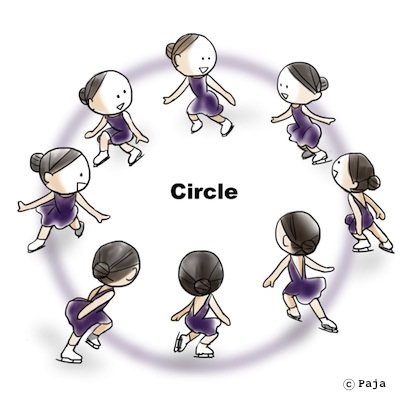 CK: [Group Lift] 3 skaters lift 1 skater, 4 lifts are required.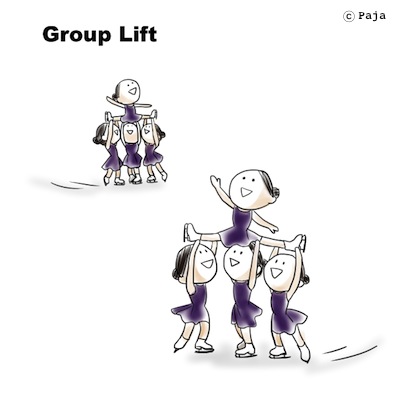 CK: Those are base Level, if you need highly Levels, you must have more features such as - the Lines must remain at 90° to each other throughout the interacting and pivoting variation, Block must have difficult footworks executed on one foot.
PP: When you line up on Block/Line/Wheel, how do you hold other skaters?
CK: When the lines are pivoting, skaters hold tightly each other in order not to be affected by centrifugal force. When everyone skates in the same direction, if you hold so tightly, you put heavy weights on the skater ahead of you. So you hardly hold, almost do not touch, like skate alone in lines. When the lines change, skaters change the way to hold as well.
PP: I see you "change the way to hold", moreover extreme difficulties you must do that in sync!
CK: Extremely difficult. (smiles)
PP: I see how "heavy" when someone grasps behind me. (smiles)
PP: "Mirror Image Pattern" adds weight to creative shapes of Synchronized skating.
CK: 2 lines are mirroring, that you see so often in transition.
CK: Required elements change every season, as 12-13 season we had 2 Circle elements: "Step Sequence" and "Travel", but last season we did only "Travel".
PP: change "every season"!?
CK: (smiles) Synchronized elements would be missing, even if we have trained it for one season.
PP: And Synchronized elements could define more than Single elements, you see correct or incorrect parts more clearly. You know, that's why even beginners could understand Synchronized skating.
CK: You can see poor shape is reduced in GOE, fast configuration, close and even spacing between skaters/Lines is increased.
(GOE: "Grade Of Execution" increases or reduces points on the base value of the elements)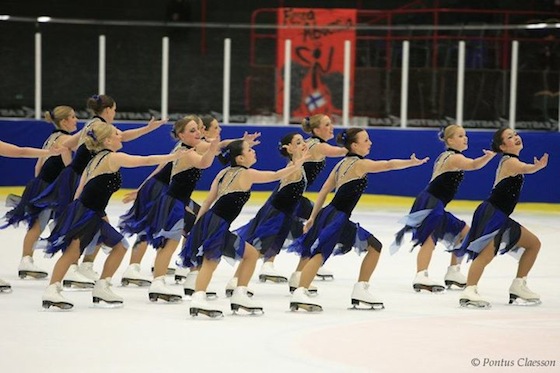 Step Sequence("No Hold Element")
PP: On Step Sequence("No Hold Element"), 16 skaters move together for 1 minute long in sync, that looks so difficult to every team, as I've never seen the "step sequence without unevenness". But top teams fix unevenness in a few steps next. How do you do that?
CK: We have disciplines, like "I must look at this direction when I do this steps," we have set "face positions". You see your next skaters, you must fit them definitely. If you see them differently, you can nudge yourself in the right position. Generally, each skater has the "guide skater". Seeing the guide skater on the side of each formation, you fit into the formation, spacing and speed in sync.
PP: Every skater makes a grid every moment, to set themselves into it. I see, a couple of skaters also adjust for one skater, then such adjustment works in a few steps next.
CK: If you do "Retrogression", you must make another grid.
PP: So that those are features of Levels: "Retrogression", "360° Rotations", "forward-and-backward series turn" - skaters must change the grid.
PP: …So you must use brain utmost on Synchronized skating!
CK: (smiles) Indeed. You must keep moving, keep thinking of next moves.
CK: On Step Sequence and Block, you must take care of your own footworks as well.
PP: If you find some unsynchronized skater on Step Sequence, how do you do?
CK: "tell her that". (smiles)
PP: That's right! (smiles) Then, do you say that?
CK: Well, in competition we hardly say, but in training we may say "Align".

PP: Chisako, you're the "end" skater who manages configuration, like a skipper of football.
CK: Because I am short. It's Andrea(DOHANY, coach)'s ethic, she wants to line it up by height. But, you know such end skater must have techniques and knowledge utmost, as I was not in charge of Line 12-13 season. "You've not had sense of techniques yet," therefore, I was the next skater to end. Last season I had been in charge in both of SP/FS, as well as I had been corrected so much (smiles), then I was getting experienced, so I'm going to grasp the sense.
CK: End skater thinks and focuses on different things from inside skaters on every element. If they mistake, all the line mistakes - such a responsible, difficult position. You must always consider how to move and how the line moves.
PP: End skaters are the starting and pivot point. If Chisako slightly mistakes, you cause the line to misalign… you never can let yourself mistake!
CK: (smiles) I must not miss timing, neither angle when I approach my line to interacting lines.
PP: If you know that the lines go unsynchronized, Chisako, the end skaters adopt that approach, do you?
CK: I'm thinking, "have to change spacing for it".
PP: Improvisational!
CK: As you can't always do the same.
PP: How fundamental the end skater is! then, some end skaters are male.
CK: Mostly they're the end skater, due to their height. If they are inside, the line looks uneven.
PP: On Wheel, I see the end skaters work so differently, if they're on pivot point or moving point.
CK: On pivot point the techniques they use, on moving point the power. On pivot point the skater has to let the wheel "Travel". If you whirl in a same way, you can't travel. So I focus on timing, when I should accelerate or decelerate. The following skaters must accelerate, keep skating against centrifugal force. They focus to tighten and straighten the line.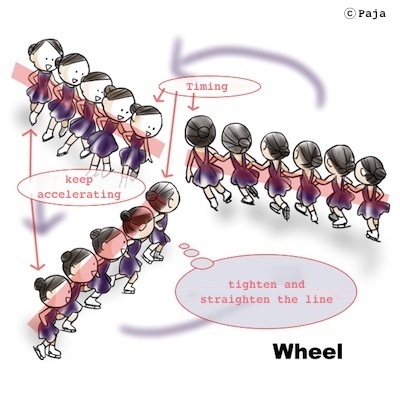 PP: Chisako, can the end skater see the whole team?
CK: I can't see the whole team, even though I see it the most. So I adjust with "sense". You know, the Lines must remain at 90° to each other, but I don't know whether I'm at 90° at first. Our coaches tell when I'm not at 90°, then I try another approach. After seeking 90°, I save the "sense at 90°", that I haven't before learning and trainings.
PP: …sense of craftsmanship!
CK: (smiles) something like that, if you don't see the whole thing.
CK: In Travel, I remember the distance when we train at home rink, the ice lined for ice hockey. I use the lines as a grid, but at competition we hardly perform on the lined ice. So I need another "sense" of distance. "If I skate for about this time, I'll move some meters."
PP: sense of distance?
CK: On Circle and Wheel, "Travel must cover more than 5-10 meters" - that is level feature. On the smaller ice than home rink, it's much harder to travel. We may travel in front of the fence, even arrive there.
PP: Sense of end skaters casts the shadows of themselves and following skaters.
CK: (smiles) Repeat, repeat, and repeat.
PP: Laborious. Such shadows I can't imagine when I see the light of performance.
CK: Synchronized labor is really tough. (smiles)

PP: In Single skating, you know "skaters do not listen to the music particularly on jumps", how do you do in Synchronized?
CK: If you are a Single skater, you can't do jumps well when you move along with music, but if you're a Synchronized skater, you can't do well anytime you don't listen to the music - as we have disciplines of timing as well, which is set by music. When you miss the timing, you're obviously unsynchronized. I was trained as a Single skater, so that's the most difficult thing to fit as a Synchronized skater. That concerned me a lot.
PP: Synchronized skating terribly does concern! you must move along with music; take care of your own level features; think of your own positioning as well as team formation; all should be arranged beforehand.
CK: You never have a break in Synchronized skating, except for the lifted moment if you are lifted. (smiles) Your brain never stops fully running until the end.
PP: Synchronized labor is thinking enormously, that's the difference from Single skating, and if that's viewed, Synchronized skating looks even more handsome.
PP: Thinking about practice of Synchronized skating, it could be more effective to complete one element than to have various drills of elements.
CK: It's reasonable, but you can't get over the slump, in Single neither Synchronized trainings. (smiles) So you change your mindset, try other things.
PP: Also there is the slump in Synchronized trainings. So you are synchronized, even when you fail? (smiles)
CK: like "We'll never succeed in this today." (smiles)
CK: As same as Single skating, we can do in practice but can't in run-through, transitions make us fail in elements.
PP: Synchronized trainings are done in same way and same progress as Single.
PP: As same as Single trainings, do you have dance rehearsal on the ground?
CK: Yes, but you know, also there is such difference between on the ground and on the ice. (smiles)
PP: I see its difference 16 times. (smiles)
PP: Synchronized skating is a team sport. 16 skaters are united. I think there is more intense rivalry than Single skating.
CK: Unlike football and ice hockey, Synchronized skating is not a battle sport. So actually we do care about our programs, as same as Single.
PP: Glad to hear it, I imagine that every Synchronized skater gets wild, roars "never defeated!"
CK: Although, our desire is "never defeated". (smiles)
PP: I see. (smiles)
CK: But you know, if you don't want to be defeated, the only thing you have to do is to make your own performance perfect. Winning doesn't depend on others performance.
PP: Do you cheer other teams?
CK: YES! we do, such like teams we met other competitions.
PP: and "Ice Messengers Grace"?
CK: The most. (smiles)
PP: Synchronized skater dressed different from Single, the costume and makeup.
CK: The biggest difference is the length of skirt. Synchronized skirt is knee-length.
PP: Is that required on rules?
CK: No, I don't know why, but I guess that is tradition. (smiles)
PP: (smiles) That is splendid, when colors spread on the ice.
CK: Obviously you can see the difference of the makeup (smiles), Synchronized makeup is much harder than Single.
PP: Team Surprise applied crown makeup in "Circus" program.
CK: Makeup is also the artistry aspect, to show the theme of program. you know, we do care how makeup is matching as well.
PP: You need the same appearance, even though you have different faces. (smiles) And, gemstones on the face, I see a lot.
CK: I guess one day one team put them on, then its fever came on. (smiles)
PP: (smiles) It's a small spectacle world on the face!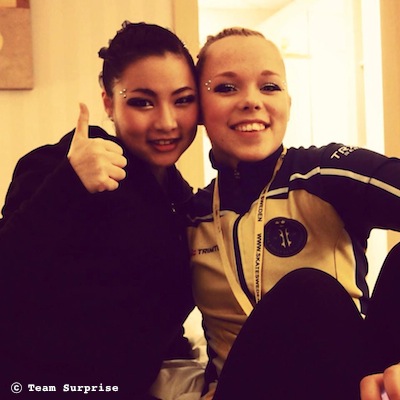 CK: You'll see even more spectacular on the face. We fix our facial expression as well.
PP: Also facial expression is synchronized!?
CK: We're trying to show the same facial expression, how we feel. You'll see that we raise inner eyebrow when we feel sad in performing. That is exclusive feature when you watch Synchronized skating in the venue.
PP: Never miss it!
CK: Also our feeling is synchronized, "This part, we have to have this feeling." Such as Team Surprise 10-11SP "Too Late to Apologize", every skater performed in almost crying, that moved me so much.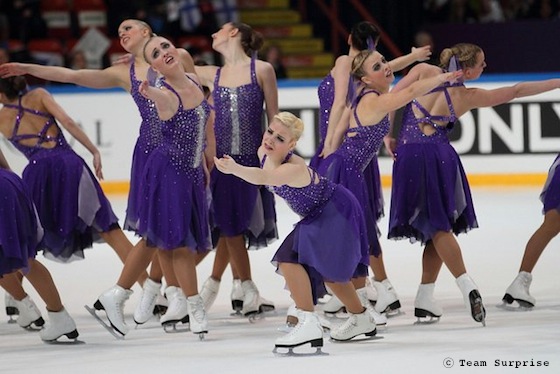 2010-11SP"Too Late to Apologize"
☞ Next Page (P2)
► Team Surprise and Synchronized skaters, the phenomenon
► updates on Chisako KIUCHI
► Go for Olympics
► Chisako's video message