Synchronized skaters - they're united, entertaining, and competing
Pigeon Post interviewed Chisako KIUCHI of Team Surprise 木内千彩子選手 @ Meiji Jingu Gaien 明治神宮外苑.
thanks to: TEAM SURPRISE for photos, PAJA for illustrations
by AIKO SHIMAZU 島津愛子
June 24, 2014 in Tokyo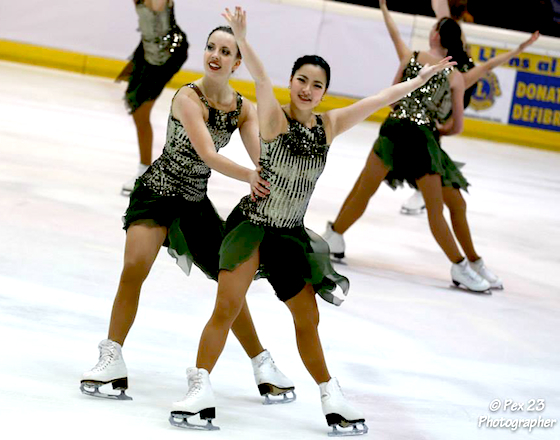 ☞ Previous Page (P1)
► Things to Must-Know about Synchronized Figure Skating
► Elements
► Duty
► Think Different (from Single skating)
☞ P2
► Team Surprise and Synchronized skaters, the phenomenon
► updates on Chisako KIUCHI
► Go for Olympics
► Chisako's video message

PP: Top teams display more seamless programs, which look like "elements and transitions should be woven in together" - ideal of Patrick CHAN (Canadian World Men Single champion 2011-2013).
I guess such transitions: configurations and skating moves makes team Surprise surprising.
CK: Also transitions Andrea choreographs, that looks unexpected all the time. "When we move this way, we'll figure this formation?" "How does she expect the formation!?" she brings us mystique. (smiles)
PP: When you do transitions into Intersection, you have lush magnetism!, even though you never see that in performing that. (smiles)
CK: uh-huh. (smiles)
PP: Although such transitions makes team Surprise surprising, that(TRansition) makes one of 5 program components score - other components: CHoreography, Performance/Execution, INterpretation could hardly reflect it, in my opinion. I think last Worlds, such 3 major artistry components scores were effective on top teams, who put up a nice show telling their stories.
CK: Exactly, if you mean we do work on things to earn less. But we do want to show the interesting things, surprise people as we're Team Surprise. So we put effort into transitions as well.
PP: Configuration of Team Surprise is really "close between skaters/Lines", that increases GOE, though, it's one of many positive features of GOE.
CK: uh-huh.
PP: And it's the opposite positive feature of "distribution/ice covered" in my opinion, as close configuration is so difficult but small formation. When that's viewed, also Team Surprise looks even more handsome, "What Team Surprise does makes themselves surprising!"
CK: (smiles) We know what makes more points, how to perform for points.
PP: But you don't do in such a way, because you love Team surprise?
CK: Yes, we love our way, performance.
PP: Then its fever makes lots of Synchronized skaters apply for Team Surprise Tryout from all over the world.
CK: We had lots of injuries last season. 2 skaters fractured their arms, as well as 2 skaters needed 10 stitches put in a wound.
PP: In the practice of Group Lift, the phenomenon?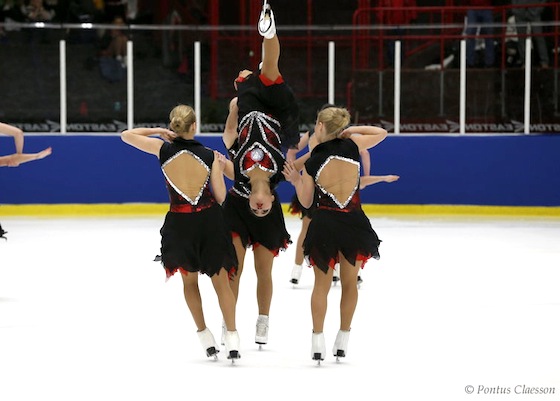 Group Lift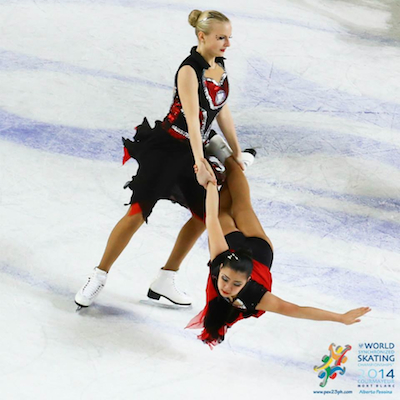 Pair Element
CK: One lifted skater dropped from the top position, one lifting skater cut on the edge of lifted skater. One skater cut her face when she swung her pair skater.
PP: …
CK: (Chisako looks determined) Ambulances came to rink so many times.
PP: …As well as determination came to you.
CK: Yes. (glowing Chisako) You know, injured skaters said "Never mind," to skaters who hurt them.
PP: And unity has come, that is irreplaceable.
CK: (nods)
PP: What a moment you have, before you share the moment with crowds and judges. You have the moment when you complete your works, it's fulfillingness.
CK: Particularly last season, only in a couple of competitions our starting lineups had performed, as one skater got injured one week before Worlds. Then she had looked after the replaced skater all the time, to teach how to perform. I know her sorrow, to sit out Worlds, to miss the goal in the final phase. But she never cried with us, she seemed to cry in private, though. She never wanted to annoy the team by crying, "never put pressure on you". That's how our team is like, "united".
PP: Already there is joy, when you train with the team?
CK: uh-huh. And also there is great motivation to win, to perform well as a team. That is another feature of Synchronized skating.
PP: I guess such different features of Team Surprise - transitions, close spacing, Lifts - makes crowds different, get more knowledgeable and enthusiastic.
CK: We don't do different things - we have different goals and priorities, as same as other teams, different colors of Synchronized skating. I hope the colors fascinate you even more, then expect your favorite one - that's fun.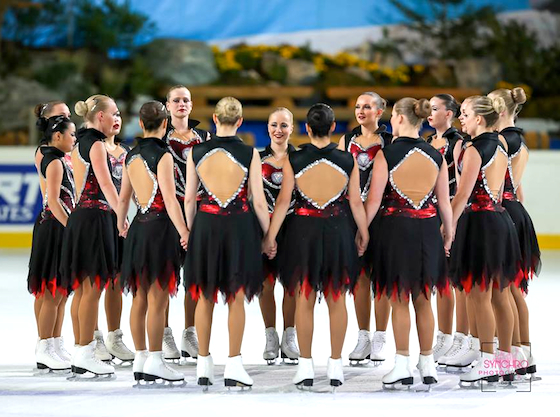 Team Surprise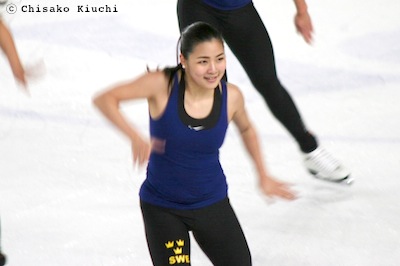 Chisako KIUCHI @ 2014 Synchronized Worlds
PP: In Sweden You have trained Synchronized skating more than in Japan.
CK: In Japan, Synchronized teams have not enough practice on the ice, but in Sweden there are Synchronized skaters as same as Single skaters. Therefore, more practice sessions on the ice are available to Synchronized teams. In Japan, kids begin skating as a Single, while in Sweden a lot of kids train both of skating. In the States, I heard that there are about 100 Synchronized teams, such a large population, and larger population than Single in Finland.
PP: As worlds love Synchronized skating.
PP: You have finished 3 seasons with Team Surprise, how's it going with Chisako the skipper?
CK: (smiles) I'm getting older one. We're young team, mainly 20 years old, so there are few older skaters.
PP: Are there a lot of skaters who finish competing when they graduate from college?
CK: Well…it depends on each skater. Usually many skaters continue until around 25-26 age. In Sweden people aren't forced to go to college after the graduation from high school, one goes to school, one goes to work, and one goes to freedom of what they want to do. Regarding Team Surprise skaters, one is the successful office worker, as well as we have college and high school students.
PP: And also Team Surprise has many sponsorships.
CK: Our sponsors help us to compete outside Sweden, to go to training camps. You know we're students mainly, we really appreciate sponsors.
PP: But, bitter thing is that you haven't deserved by doing this…
CK: (smiles) uh-huh.
PP: Nonetheless, determination has come to your unity.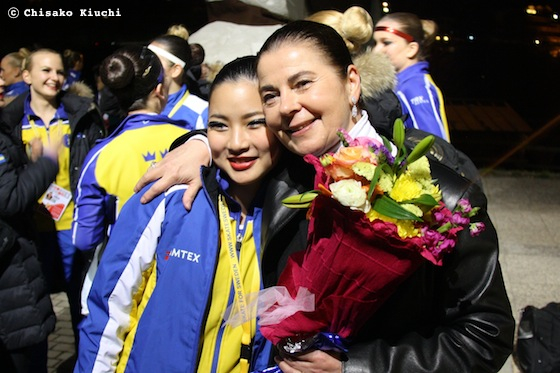 Chisako KIUCHI, Andrea DOHANY
PP: Since you have been in charge as the end skater, I guess it has been tough times to you.
CK: Particularly last season, the year of "corrected"…(smiles)
PP: told out in Swedish?
CK: All the conversation is in Swedish since I integrated with Team Surprise from my first encounter.
PP: What a tough encounter!
CK: At first, you know, I didn't know what I was corrected. (smiles) 3 seasons does make you know it all.
PP: So, you have grasped Swedish! Swedish speaker is hardly found in Japan.
CK: uh-huh. (smiles)
PP: Andrea has coached you on Single skating, too. Kristoffer BERNTSSON(former Swedish Men Single champion, Andrea's longtime student) was talking about Chisako, you're training together.
☞ Kristoffer BERNTSSON [Koffe's still doing something special] (in August 2013)
CK: He competed at Olympics with Andrea.
PP: You have been training under the acclaimed Single-and-Synchronized coach, while you seem to be unable to handle both Single-and-Synchronized trainings.
CK: 1st season I had done both, but 2nd season I got injured to retire Single skating before Synchronized season had come, "focus on Synchronized this year."
PP: In September you're going to art school in Sweden, as you planned. How are you going to do on Single skating?
CK: If I make handling with studying… I want to do Single skating, too. (smiles)
PP: Like your high school busy days, when you were handling quadruple missions: Synchronized practice, Single practice, high school, prep art school. (smiles)
CK: The year of "the busiest" in Sweden so far, I expect. (smiles)
PP: What are you going to study at your art school?
CK: I'm hoping to study "spatial design", which is improving in Sweden, such as interior design.
PP: As you said on last interview (Jul, 2014), you do progress! And you're working on design this summer back in Japan.
CK: I'm making logos, stickers.
PP: I never miss them. (smiles)
PP: What training do you do back in Japan?
CK: You know, I can't do Synchronized practice without my team, so I practice Single skating, for I'm going to do Single skating.
PP: Prolific summer you have! (smiles)
CK: Yes I do. (smiles) I'm going to do everything I can do!
PP: Then you have trained under Minoru SANO (her coach in Japan, first Japanese World bronze medalist) again. I imagine he miss you terribly. (smiles)
CK: (smiles) Minoru has supported me so much, and he e-mailed me in Sweden. When I come back in Japan, I'm given coaching by him. In Japan, he is the booster of my heart. (smiles)
PP: Your Single programs are choreographed by Nanami ABE(former coach of Yuzuru HANYU), that lo--------ng await us.
CK: I guess those are waiting to be performed so long time, too. (smiles) SP"Carmen" and FS"Red Violin" make me different from previous programs. Smoothness of skating, intricate step sequence I bring from Synchronized works. …wish opportunities to perform them. (smiles)
PP: (smiles) that's my desire, though, hope you'll be well.

PP: 15000 people signed up a petition in order to [Make Synchronized Figure Skating an Olympic Event #WhyNotSynchro2018].
CK: Last Spring Cup, we made PR video on YouTube with other teams, as well as at Mozartcup skaters showed "configuration" of 5 rings in their winning ceremony. Everyone's quite motivated, determined to go for it.
PP: Over the belonging!
CK: Over the border!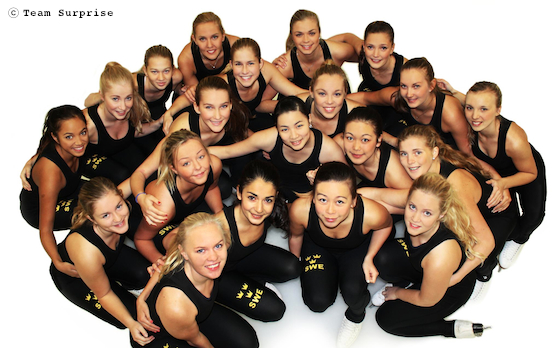 Team Surprise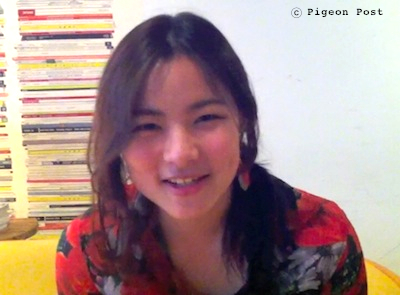 ☝︎ tap/click
((translation)) Hi, this is Chisako Kiuchi, nice to see you Japanese people again. It's my 4th season to represent Sweden. For Japanese people rarely you have watched Synchronized skating, but in the world a lot of people are working in order to [Make Synchronized Figure Skating an Olympic Event #WhyNotSynchro2018]. Synchronized skating world is improving, we're going to get it fascinating even more, please support us.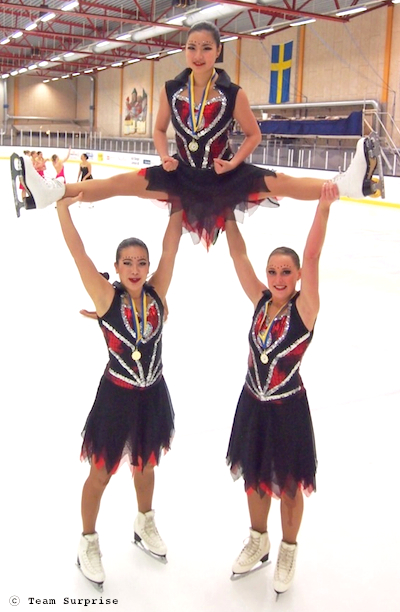 ☞ Previous Page (P1)
► Things to Must-Know about Synchronized Figure Skating
► Elements
► Duty
► Think Different (from Single skating)
☞ #WhyNotSynchro2022|interviews with Miwa OGITA Chisako KIUCHI June, 2015 (in Japanese)
☞ Chisako KIUCHI [Japan's Depth #5 To Any Destination with her skating and the arts] July, 2012 (on Japan Skates)
☞ Team Surprise Instagram
☞ Team Surprise Facebook